Click Here for Copy of Fan Guide
Thomas ARCA Stats Racing Reference

Tommy Praytor Bio

Racing for
Ronald McDonald House

Sponsors
Crew
Showcar
Media
2005 Hawaiian International Billfish Tournament

Thomas Praytor
News & Photo's
2021 Photo Gallery
2020 Photo Gallery
2019 Photo Gallery
2018 Photo Gallery
2017 Photo Gallery
2016 Photo Gallery
2015 Photo Gallery
2014 Photo Gallery
2013 Photo Gallery
2012 Photo Gallery
2011 Photo Gallery
2010 Photo Gallery
2009 Photo Gallery
2008 Photo Gallery
2007 Photo Gallery
2006 Photo Gallery
2005 Photo Gallery
2004 Photo Gallery
2003 Photo Gallery
2001& 2002 Photo
2000 Photo Gallery
1999 Photo Gallery
Tommy Praytor Photo's
2012 Photo Gallery
2011 Photo Gallery
2009 Photo Gallery
2008 Photo Gallery
2007 Photo Gallery
2006 Photo Gallery
2005 Photo Gallery
2004 Photo Gallery
2003 Photo Gallery
2002 Photo Gallery
2001 Photo Gallery
2000 Photo Gallery
1999 Photo Gallery
1998 Photo Gallery

Cup Sponsorship

Tribute Pages
Jamie C. Praytor
H.T. "Tommy" Praytor
Gene Tapia
Links to Alabama Tracks
Montgomery Speedway
South Ala Speedway (Opp)
Mobile Intl Speedway
Pensacola Speedway
Sunny South Raceway

H.T. "Tommy" Praytor Jr.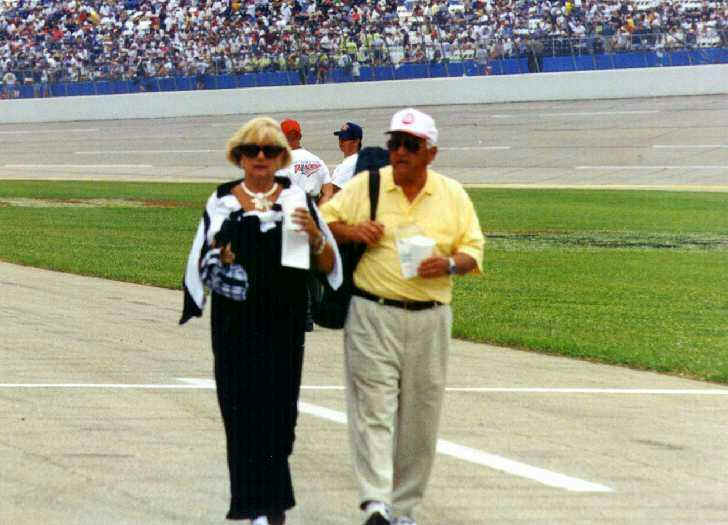 Our Dad passed away on May 9th 2005. Dad was not a racer and we didn't grow up in a racing family and my Dad was not a born race fan but Thomas and I turned him into one over the last few years. Early in my racing experience Dad would travel with me to the Cup races and was on hand when we signed our first Winston Cup deal in Atlanta. We would talk often while I was traveling around the country and I would fill him in on what the latest was from the race track. If Thomas or I raced one night I could expect a call the next morning to find out how we did. While he wasn't knowledgeable about racing mechanics he instilled in me the drive to compete. We'll miss his him. Tommy

The picture above is Mom & Dad at Talladega. The story below was the basis for the newspaper story.

H.T. "Tommy" Praytor Jr.

Long-time banker and outdoorsman Tommy Praytor passed away from complications after a heart attack at the age of 70. Praytor was the oldest child of Thomas and Lucille Praytor and spent his early years growing up and playing ball around Hannon Park. Hannon Park would become the root of a life-long obsession with sports and the basis for his competitive fuel. After graduating from Murphy High School, Praytor attended college at the University of Southern Mississippi, competing in intramural sports and missing the USM basketball team in an open tryout. In high school Praytor worked part time counting change at Merchants National Bank (Regions). During breaks from USM he continued working at Merchants and after graduation he signed on full time.

In 1999 Praytor retired from Regions Bank after a 47-year career in banking that carried him from counting change to the height of the banking profession. One of Praytor's first assignments at Merchants had him in the computer department in the 50's and 60's. The computers of that era filled up rooms and worked on punch cards and tapes. While those machines were state of the art for the day, one of today's lap tops has more computing power. His knowledge of the early banking computer landed him in the correspondent banking department working with member banks in Florida, Louisiana, Alabama and Mississippi. He and his boss, Henry Schaub, traveled the Southeast together, hunting, fishing and occasionally working with small member banks on their correspondent banking needs. As small banks became big banks, and big banks became huge banks in the 80's, the need for correspondent banking subsided. Praytor continued in correspondent banking and added private lending and funding bond issues for municipalities to his resume. As he retired Praytor would point with pride to new public improvements that were made in cities because of his work on their bond issues.

Out of college, Praytor's desire to compete never subsided and fast-pitch softball would become his passion. Praytor would catch for some of the biggest names in fast pitch and at one point found himself playing ball every night of the week. While he caught many of the big throwers of the 50's his favorite hurler was Roger Geil. Together they were the 1-2 anchor of an undefeated Merchants National Bank team whose record has not been duplicated. As a testament to their accomplishment, the team's photo still hangs in the bank almost 50 years later. Catching fast pitch took its toll on Praytor's knees and he retired to refereeing high school football. He and his crew called hundreds of games all over South Alabama and he had an up close view of some of the best in the game. He always spoke of one kid who was special that stood out more than the others: a tall, wiry lefty from Foley High School, Kenny Stabler. While refereeing football was easier on his knees than catching ball, it still took its toll and he would be forced to leave the playing field completely.

Most of his refereeing group also loved to hunt and when the gang wasn't on the field they could be found in the Mobile Delta hunting ducks. In the early days it would not be unusual for them to hunt the Delta in the morning, change clothes and be at the bank before it opened. Billy Coggin, Tom Shepard and Jake Huffstetler were part of his early duck hunting crew and one time he and Coggin built a huge 30' double blind so they could put there boats end to end so they could hunt together all the time. Praytor's grandfather built a house at Bear Point in the 50's, and in the 60's Praytor and his group realized there were ducks at the gulf in the winter. Using the house as a camp he and his crew hunted on Ono Island and Orange Beach. Duck blinds were erected on what they thought was useless swamp that is now multi-million dollar beach resorts.

Praytor's love for the outdoors was aided by his job working with small banks in rural towns. Who had a better place to hunt and fish than the man who owned the bank? A pump action Model 12 was Praytor's gun of choice and proficient would be an understatement. At one point he formed a hunting club in Pine Hill Alabama with a colorful membership headlined by Bo Keller. Keller and Praytor became quite a pair and the hunting club had more fun and shot more bull than anything else. Hunting happened in the fall and winter which left spring and summer for fishing.

While Praytor is most well known for saltwater fishing he took a turn tournament bass fishing with Bill Nunnery as one of his partners. Saltwater peaked Praytor's attention early and over the years he would spend thousands of hours in the Gulf of Mexico and it's tributaries. Early on he would charter his Bear Point neighbor and friend Carl McDuffie's wood hull, single engine Pompano. He and McDuffie won a boatload of Alabama Deep Sea Fishing Rodeo Titles over the years and helped put the charter fleet in Gulf Shores on the map in the 1960's. Praytor would also be part of the crew that caught the first Blue Marlin out of Gulf Shores. His love for the water had Praytor thinking of leaving the bank and owning his own charter boat. McDuffie cured the itch with Praytor acting as a deck hand for a day on the Pompano. McDuffie made sure Praytor was onboard when a not-so-pleasant group that knew nothing about fishing and more about sea sickness was aboard the Pompano. While the trip cured the itch to own a charter boat it intensified his love for fishing.

From the seaweed beds in Bayou St John to the canyon in the Gulf of Mexico Praytor would spend more than 40 years saltwater fishing. Praytor would own many boats and have many fishing buddies but his 31' Bertram, the Teaser, was his favorite. Bill Hill, Mack Graham, his 2 sons and son-in-law were the regular crew. If anyone thought Praytor had lost his competitive edge, all they had to do was be on the Teaser with a fish on. Failure was not an option. The Teaser would win back to back titles in the Mobile Big Game Fishing Club Labor Tournament and just missed a state record for white marlin. The riggers of blue water fishing did not do well on worn-out knees and Praytor retired to fishing for speckled trout and redfish.

In the 50's the Merchants National Bank building was a hub of activity in downtown Mobile and was the perfect place for a young ball player fresh out of college to socialize. It wasn't long before Praytor found a young new bank employee at Merchants National Bank, Jamie Catlin. The two would quickly become a couple and they embarked on a 45-year marriage on April 11, 1959. The pair was filled with life and adventure that served them well as they traveled the globe over the last 5 decades. Their union produced 3 children, Tommy, Ellen and Wilson. The boys would follow their Dad's love for the outdoors and fishing with one of the two or both at his side on almost every trip. While his daughter Ellen was not a big fisherman as a child, her Dad's love for the water lives on in her as a mother and active fisherman with her husband and two boys.

Over his lifetime Praytor served many causes with his favorite as the Treasurer of The Mobile Big Game Fishing Club. He served in that position longer than anyone before or after.