Tommy Race Recaps 2012

2 Cut Tires Relegate Tommy to 6th Place Finish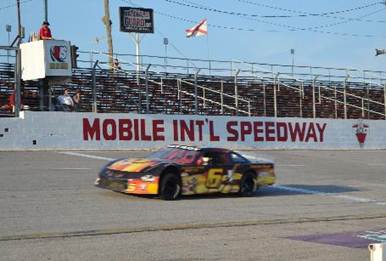 After a little practice, the Final Destination 4 machine was starting to look like a race car again, and the old guy behind the wheel was at least able to find where he was supposed to turn left. "It's was all fun and games until Saturday when they turned the timers on. Thomas and the guys really gave an old guy a nice car," said Tommy. The final race of the season for the Super Stock-Trucks garnered a bigger than normal field of cars and a lot of old familiar names were all back on track together again. Somebody must have left a Krispy Kreme doughnut on the dash during qualifying because Tommy qualified 4th. "We had a really good car, I felt like I left a couple of tenths on the table." Because the effort was a one off deal we didn't have a good set of tires for the heat race so we bolted on a set from May of last year. (Car owner was too cheap to buy another set.) "We were in the fast heat with a group that was fighting for every championship point. With our old tires we stunk the joint up in the heat race."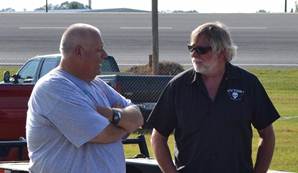 The pole sitter rolled a 10 for an invert moving Tommy from 4th to 7th and behind Big Jason Johnson. "Starting behind Jason the plan was easy, just take advantage of the holes he opened up and follow him." With the drop of the green flag Tommy was hooked to Jason's bumper and they were moving to the front. 8 laps in Tommy came unglued from Jason and started to fall back. Within a couple more laps Fatboy was giving back spots he had gained and was now in a free fall backwards. "The car got tight a little at first and then it just wouldn't turn at all. It took me a few laps to realize we had cut a tire down and we were in trouble." The race was going caution free and just as the FD4 Pontiac was about to get lapped the caution flag flew. "By the time he got to us on pit road there was only 8 pounds of air in the right front," said Thomas. "The good news was we got him another tire, the bad news was it was one of the crappy ones from last year."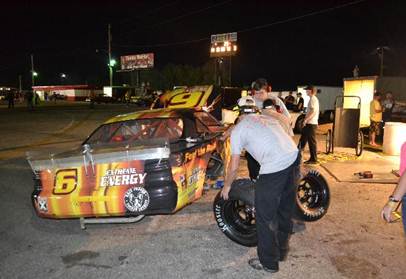 With just 4 laps left it was going to be a wild shootout. Back under green the old man was up on the wheel and worked his way back to 6th when the forward progress stopped and he finished 6th. "We got the car back to the trailer and we were taking tire temps and pressures, the guys could hear the air coming out of the right rear, incredible another cut tire," Thomas. "I really thought we had a shot at a top 5 but the car just got tight the last couple of laps. Can't believe we cut another tire. I've raced years without a cut tire and we had 2 in 1 night. I had a good time I appreciate the boys getting my old car ready for me. Glad it was the last one of the year or I might have them back out in the shop getting it ready to go again." Tommy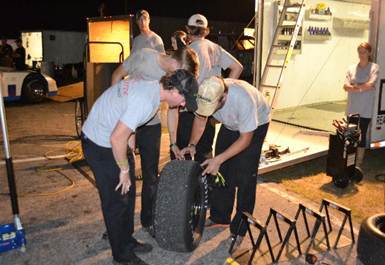 Tommy Leads the Big Boys Back to MIS Saturday Night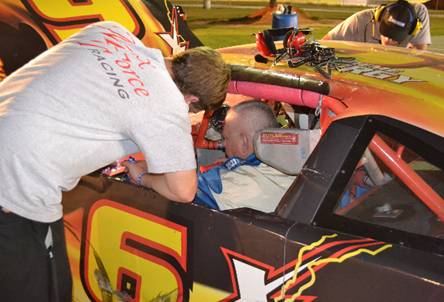 Tommy Fatboy Praytor coming back Saturday night to Mobile International Speedway opened the flood gates for long time Super Stock-Truck competitors to get back in the action. If Tommy wasn't big enough, BIG time competitors like Big Jason Johnson and Howard Langham were testing their rides for Saturday on Thursday night. "We tried to tell everyone how big Saturday night was going to be, it just keeps getting bigger. Let me tell you how big it is. If there are problems on the track there weren't be a fight, there may be a sumo match and it won't last real long either," offered the elder Praytor. "The Super Stock-Truck race Saturday night will be for the Heavyweight Title of Mobile International Speedway."
On the track the old man put his FD4 machine through it's paces and while his crew chief/spotter, the Moose, Thomas Praytor, tried to help an old man out. "We had a good practice once we reoriented our driver as to which pedal was the gas. He looked good early but started to fade as the night went on. One of the guys left his cheeseburger on the dash, just out of reach and we turned our fastest laps of the night," said the Moose.
Bombers and Super Stock-Trucks will compete in heat and feature races Saturday night with the Bob's Speed Shop Sportsman taking center stage in the $2,000 to win Polaris Sportsman Challenge Presented by Four Points Biloxi Beach Hotel.
Picture Thomas showing the old man where the gas is.
Tommy Racing Saturday Night At MIS
As if Saturday night's Polaris Sportsman Challenge presented by Four Points Hotel Biloxi at Mobile International Speedway wasn't big enough, it just got bigger, in fact it got HUGE! After a 3 year absence from driving at MIS Tommy (that would be the elder Praytor) is climbing back, OK maybe squeezing back behind the wheel of the Super Stock made famous during the filming of Final Destination 4. "It's rare that the schedules match up when Thomas is not racing and the Super Stocks-Trucks are. Last time I did this, I was absolutely horrible but I had a good time and only wrecked one guy!" offered Tommy. Thomas and our Max Force team have been working the last week to bring the FD4 back to life. "Poor car has been sitting over in the corner for year, I thought we were going to have to use the defibrillator paddles on her to bring her back to life. Fresh oil and a new filter and that Mike Woodsen motor came roaring back to life. Really the only problem we've had so far is getting the left side weight right," said the Moose.
Open practice is tonight and the team has rented the track for tomorrow night so the old guy can knock some more of the rust off before dropping the green flag on Saturday night. Come on out to MIS on Saturday night to watch the only driver that requires the jaws of life to get in and out of the car get back in action.