This page is a compilation of all the past recaps.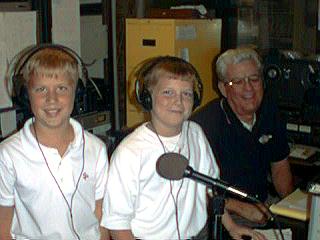 Thomas & Anthony on Tom Claxton's radio show.
April 10th-Robbie Blake came to the track loaded for bear with a new go cart and set a new track record while taking the pole. Thomas qualified 3rd and Anthony 2nd that the way they stayed for the heat and the feature with Robbie taking them both going away.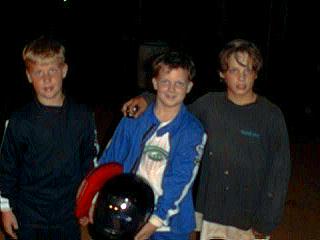 Thomas, Anthony & Robbie Blake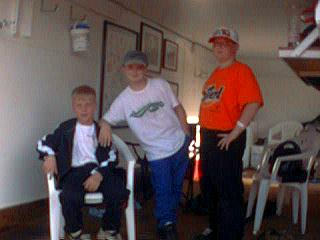 Thomas, Anthony & Michael Hazard taking it easy between races
.

March 27th-Thomas had a baseball game that kept him from getting to the track in time to qualify so he had to take up the tail end and start last. While Thomas was playing baseball his teammate, Anthony, set a track record during qualifying and would start on the pole. During the feature, Thomas worked his way through traffic and he and Anthony opened up a straight away lead on the rest of the field. A late caution with a wild start put them both out of position but they worked their way back to the front and Anthony finished first and Thomas second.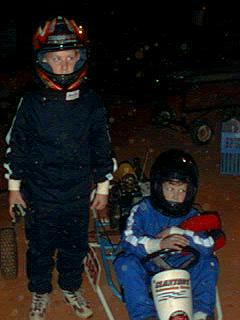 Thomas & Anthony after the feature.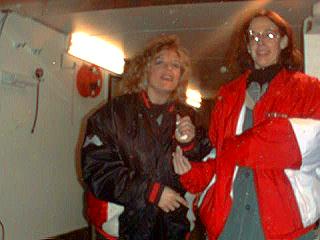 Zondra Yarber & Julie Praytor, at the trailer. Zondra, her husband Brian and Twilley, one of their crew, came to check out a little dirt action.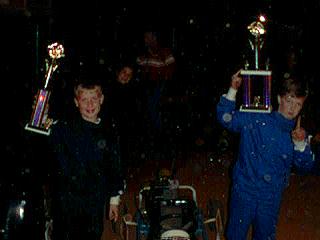 Thomas and Anthony showing off a little hardware they collected Saturday night.
March 20th, Opening Night- Anthony set the pace with a qualifying lap of 20.83 and Thomas qualified second with a 21.03. Wow! We had teammates on the front row. Thanks to some bad advice from their Dads Thomas and Anthony had a horrible start in the heat race but they overcame it with Anthony finishing first and Thomas third. For the feature they lined up with Anthony in the pole and Thomas in the third spot and it looked like that's how they were going to finish. However, coming out of the fourth turn on the last lap Thomas and another driver got together and had a good Fatboy style wreck which sent them to a last and next to last finish. Anthony won the event and took home 2 first place finishes from opening night.
We'll have more pictures from opening night by the end of the week.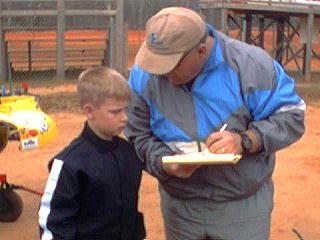 Dad tries to give a few pointers. All I really did was mess him up.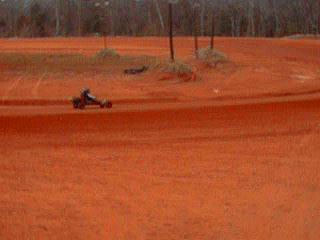 Thomas on the track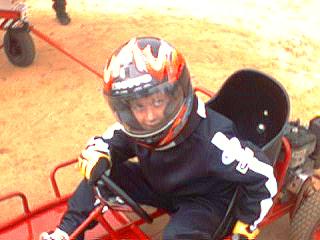 Thomas climbing out of his machine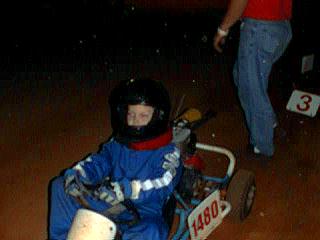 Anthony Claxton on the pole for the heat and the feature.