Latest News

Under the Lights for Praytor and Team DK-LOK at Indy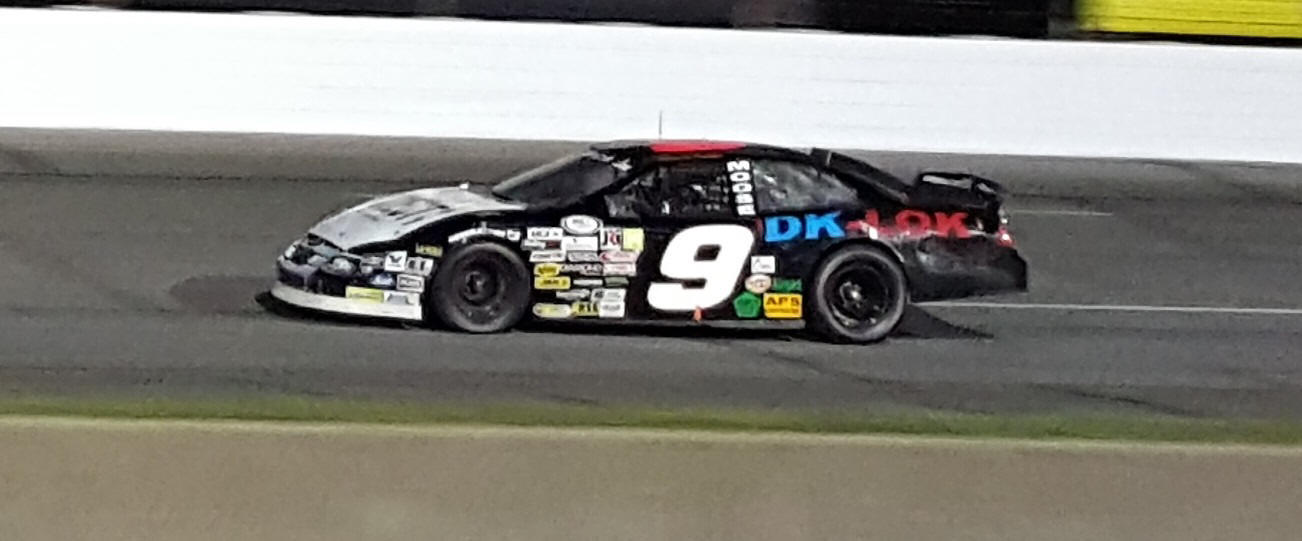 Sioux Chief PowerPEX 200 at LUCAS OIL RACEWAY(Indianapolis): Friday starts a busy weekend for Thomas "Moose" Praytor and his DK-LOK Team with racing in Indianapolis on Friday night and Charity Softball back in Mobile on Saturday afternoon. "We have a big weekend starting with Indy. Really cool racing under the light at LOR. I can remember coming here with Rick Crawford, it was always a good track for him and it has been for us too. I love a place where the driver has a lot of input on his race car." After the race on Friday night Praytor will bring the hauler back to Mobile to take part in a fundraiser at the Hank. "I haven't touched a bat in 15 years but I'm still looking to take my old teammate (AJ McCarron) deep Saturday afternoon." Praytor, McCarron and Jon Lieber join an all-star cast lineup to raise money for Buddy Ball.
Sioux Chief PowerPEX 200 is a one day event with technical inspection, practice, General Tire Pole Qualifying followed by the Sioux Chief PowerPEX 200 green flag at 8:00 CST. Live timing and scoring for practice, qualifying and the race will be on ARCARacing.com. The race will be televised live on Fox Sports 1.
Channel Listing for FOX Sports 1 : DIRECTV CH- 219, Mediacom CH- 53, COMCAST CH- 49/241 HD, AT&TU-Verse CH- 652, Dish TV 150.
PRIMARYSPONSOR: DK-LOK Fittings & Valves www.dklokusa.com
ASSOCIATE SPONSORS: G-Force, Nudraulix, REALTOR, Rettigs Auto Body, APS Automotive Painters Supply, Dueitt's Battery Supply, Airgas, John Thompson & Associates, Judy's Place, Greer's Food Market, AQUASALT, Wade Distributing, Campbell, Duke & Campbell, Omni Fitness, Golden Flake, Mobile County Sheriff's Office, Praytor Realty
ARCA CHAMPIONSHIP STANDING: 9th
CAR: Roush Chassis #461,"Black Betty"-Black Betty has been the team's short track stalwart and was the 2nd car the team purchased. Praytor drove the car to his career best ARCA finish of 7th at the ARCA Mobile 200 and Betty has been utilized five times in 2017, Salem, Toledo, Madison, Iowa & Elko.
WHAT TO LOOK FOR THIS WEEKEND: There is a lot of driver input at LOR much like Iowa. Lots of different ways to get around and the cars really launch off of turn 4 using the high groove. Handling will be at a premium this weekend.
Lucas Oil Raceway: 0.686 Miles of Asphalt, with 12 degree banking.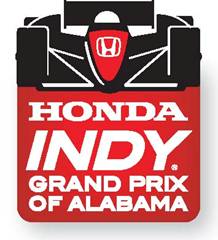 Praytor Joins McCarron & Lieber for Buddy Ball Fundraiser

Thomas "Moose" Praytor will team up with A.J. McCarron again along with former Cubs Major League pitcher Jon Lieber and host of others for a celebrity Softball game at Hank Aaron Stadium on July 22nd to Benefit Buddy Ball.
Buddy Ball is a League for special needs players from ages 5-21. Everyone gets to play and has a buddy on the field with them cheering them on. The League is designed for the players but the "Buddies" tend to be rewarded as much as the players.
Next weekend will be a busy one for the Mobile, Alabama driver. Friday night Praytor will be in Indianapolis competing in the Sioux Chief PowerPEX 200 before racing back to Mobile for the Buddy Ball Benefit at the Hank.
"We are going to have to hustle to get back from Indy for the Game but I'm really looking forward to it. Some of the kids will be there and it's all about the kids they really get you going," said Praytor. "I don't know if I'm playing with AJ (McCarron) or against him but I hope he pitches so I can take him deep. Now Lieber is another story, I hope we are on the same team!"
AJ MCCarron is a 3 time BCS National Championship Quarterback currently with the Cincinnati Bengals and Jon Leiber is a former University of South Alabama player who spent 14 years in the big leagues with Cubs and Yankees.
The fundraising softball game, autograph session and silent auction begins at 4:30 and will be followed by a BayBears regular home game. The BayBears will take on the Chattanooga Lookouts at 7:05. It's Cap Night at the BayBears and the first 1,000 fans will get a free BayBears cap. Tickets are $10 with $5 going to Buddy Ball and includes both games! To get tickets in advance call 251-605-5939 or rochellejdn@aol.com.
No Juice for the Moose-Rebounds to 18th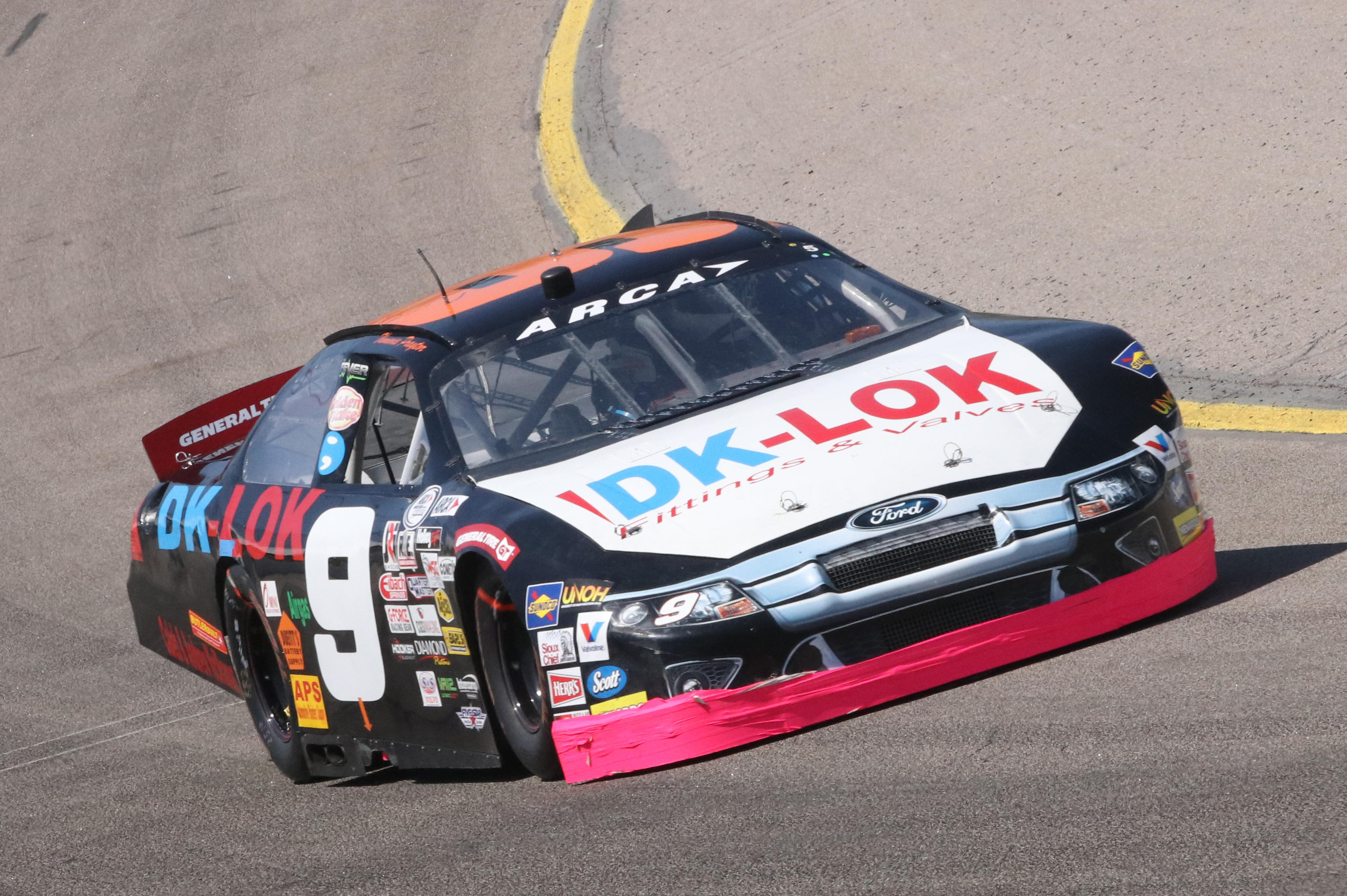 Over the last few races the team has been making some aggressive changes to their DK-LOK Ford paying big dividends on the race track. So if it's working keep going!
After the 1,200 mile commute from Mobile to Newton, Iowa, the Moose developed a stomach bug that drained him Friday night and in to Saturday morning.
"I've been sick before but nothing like what hit me Friday. It was pretty bad, the guys got me some medicine and some Gatorade to slow it down. I stayed late at the hotel while the guys got us unloaded and through tech."
With a few minutes to spare a little whiter and lighter Praytor showed up for practice.
First laps on the track proved, a little of a good thing is a good idea but a lot maybe not so much.
"We were really loose on the track and had to go to work making some major changes. The guys did a great job and we picked up speed with each run."
With a much improved DK-LOK Ford Praytor timed into the 18th starting spot for the Friends With Benefits 150.
The start of the race was an indication of how the night would go.
"The green flag flew and our DK-LOK Ford just sputtered. It took me a few seconds to realize we had a bad ignition box. I swapped the box and Betty came back to life."
The bad ignition box cost Praytor a straight away to the field, rolling again he was making up ground.
As fast as the DK-LOK Ford could catch them Praytor was on the move and in the first 40 laps had worked his way up to 11th when the caution flag flew.
"Everything was fine until it wasn't. We had a fast car and were under caution and it just quit, dead."
The DK-LOK Ford rolled to a stop on the back straight away requiring a push back to pit road.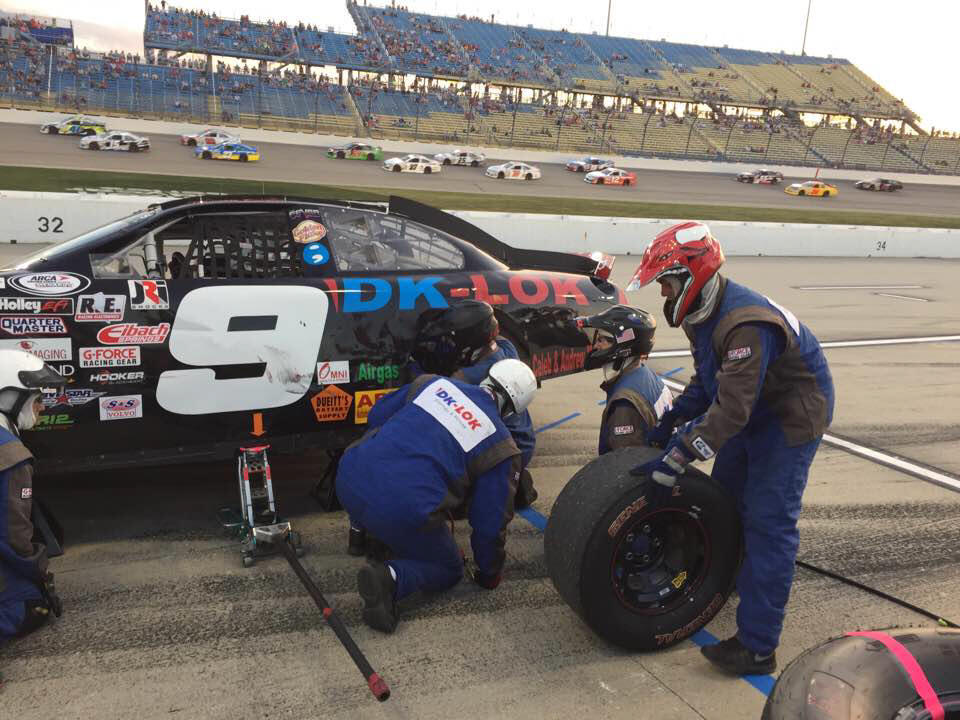 Back on pit road the crew quickly changed out the batteries. Even with the quick change it cost the team 5 laps on the race track.
"Saturday night is a classic example of how our race team has improved with Adam (Lowe) in the shop. Adam was responsible for getting the extra batteries charged and set up with quick disconnect cables. Something we wouldn't have had time to do in the past."
The change only cost the team 5 laps and the Moose went back on track with a lot of steam.
A fast car got faster and Praytor started unlapping himself. The DK-LOK Ford turned its fastest lap of the night on lap 110.
When the checkered flag flew Praytor had worked his way back from the tail end of the 30 car field to finish 18th.
"We ended up with a really nice car after a lot of hard work. Our guys worked hard all day and kept overcoming obstacles during the race. As crappy as the day started we really ended up with a solid night. Would have loved to have had a few more laps to catch some more cars."
Team has a week off before the Sioux Chief PowerPEX 200 at O'Reilly Raceway Park in Indianapolis.
Did You Hear the One About the Hindu and the Rednecks?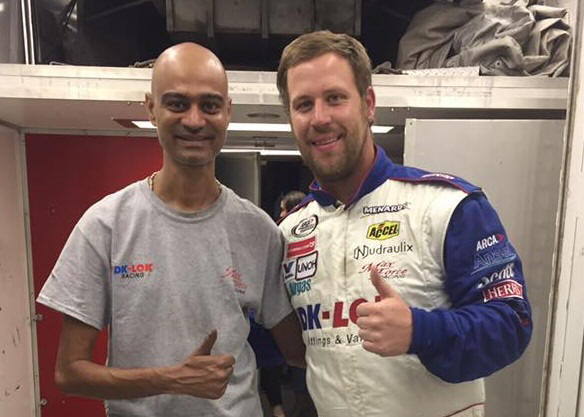 The title sounds like the beginning of a bad joke but in fact it is the story of how Pawan Vittal made it 8,565 miles from Mysore, Karnataka, India to UNOH to working for an ARCA team based out of Mobile, Alabama.
Vittal is part of the UNOH High Performance Team that sends interns to race teams from Dirt to NASCAR. In 2017 he was assigned to Max Force Racing with 6 other UNOH students to work for Thomas and Tommy Praytor.
In India, the Vittal family is very successful in many fields of endeavor but Pawan has the racing bug that includes being a navigator for a road rally team back home.
"I am definitely the black sheep of the family," said Vittal. "The rest of my family is so successful and all I want to do is race."
From India to the biggest racing stage in the world Vittal was dropped off in the deep end with the Praytor's at Daytona.
"I asked Pawan what his name was 3 times before I asked the rest of the group what did they call him," laughs Tommy Praytor. "Finally somebody said we call him Pete."
Prior to Daytona "Pete" had never been anywhere in the United States other than Lima, Ohio. Since Daytona Vittal has made stops in Talladega, Nashville, Salem and Toledo and will soon be in Elko Minnesota. By the end of the season he will have seen more of America than most Americans.
"It has been fun seeing the US, there are so many unique places," offered Vittal.
Needless to say pairing a devout Hindu with a team from Alabama, created some cultural differences.
"First thing we found out was Pawan was a vegetarian. The only vegetarians in Alabama are rabbits. For a team that survives on Hamburgers and Monroe Sausage my Mom had to adjust her cooking plan quickly," said Thomas Praytor.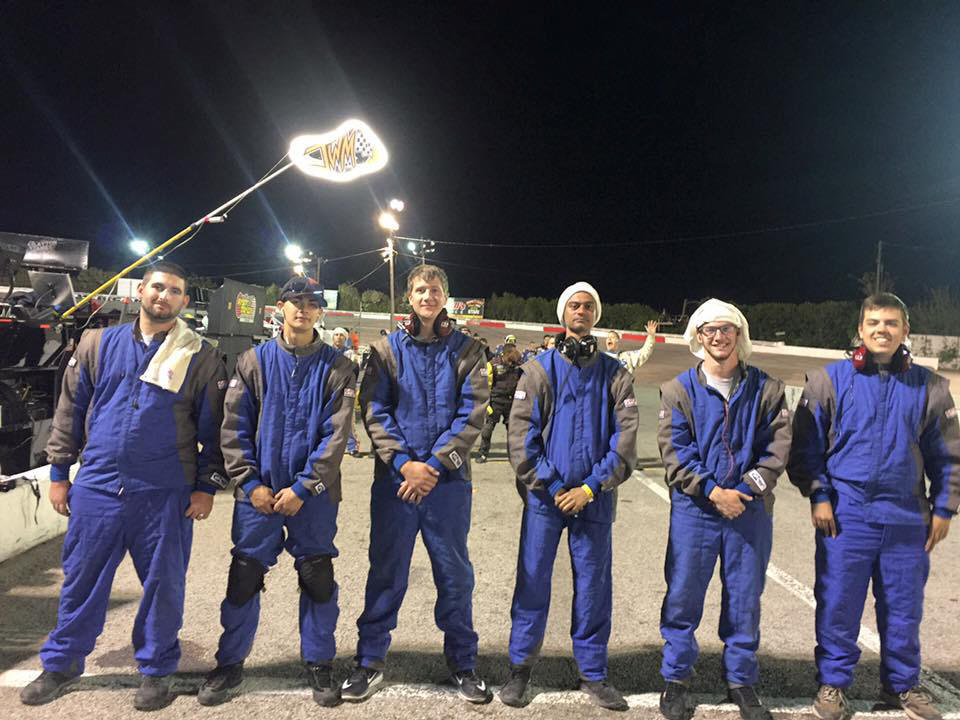 After a couple of races the team understood Pete enough to know his name was Pawan and even Tommy has gotten into the closing the cultural divide. "Each morning I greet Pawan with the traditional Hindu greeting, Namaste while bowing and clasping my hands together. Pawan will shake my hand with an American, Good Morning."
While not exactly détente having Vittal on the team has been a learning experience for everyone.
Julie Praytor, "Pawan is so kind and considerate, he's really been a big help and a lot of fun to have on our team."
In the midst of the cultural divide and a language barrier that is rapidly disappearing (neither side is certain whether Pawan's English is better or they can just understand him) Pawan and his UNOH teammates have gelled into a cohesive unit that's pushed Thomas Praytor back into the top 10 of the ARCA Series standings.
"At the end of the day we don't care if you're from India, Michigan, Maine or Alabama we have a race team to run and everyone has to do their job," offered Tommy. "In just 5 races Pawan is doing a great job of fitting in and working hard with the rest of our guys."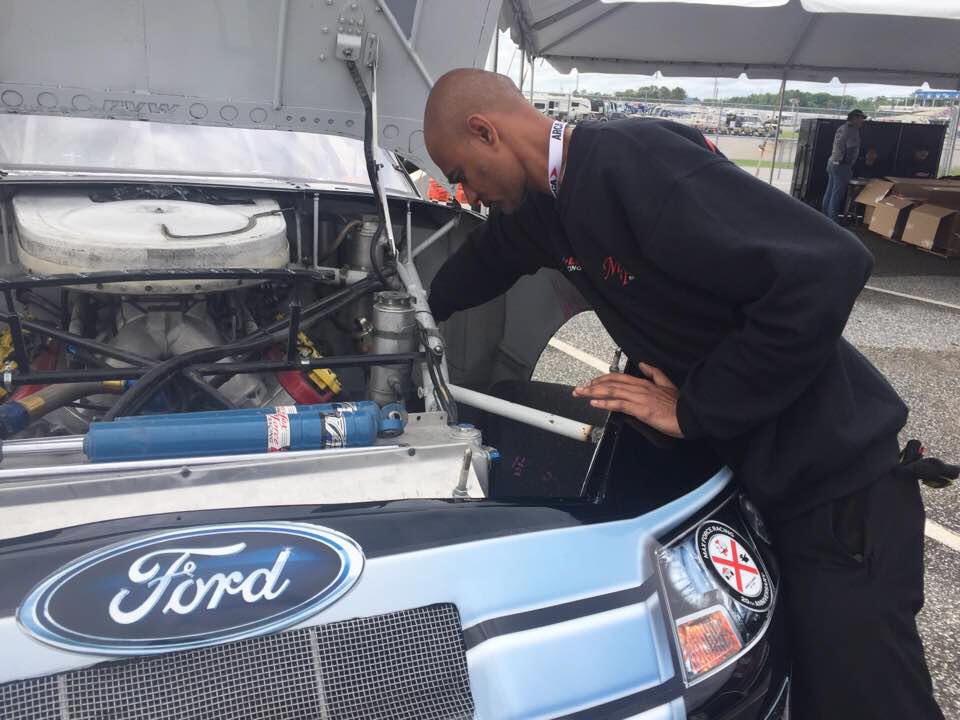 Elko Speedway is the smallest track on the tour and the team will have its most challenging pit stop during the Shore Lunch 250 on June 3rd.
Reflecting on his first 5 races Vittal offered these thoughts, "This has been a great experience for me, the Praytor's welcomed me as part of their family. That means I get yelled at like everyone else by the Boss but I'm also learning a lot about racing and rednecks."
Racing with Rednecks and a Hindu.
Mullins & Praytor: Low Budget Fast Competition
Speed Sport News, By: Adam Fenwick
.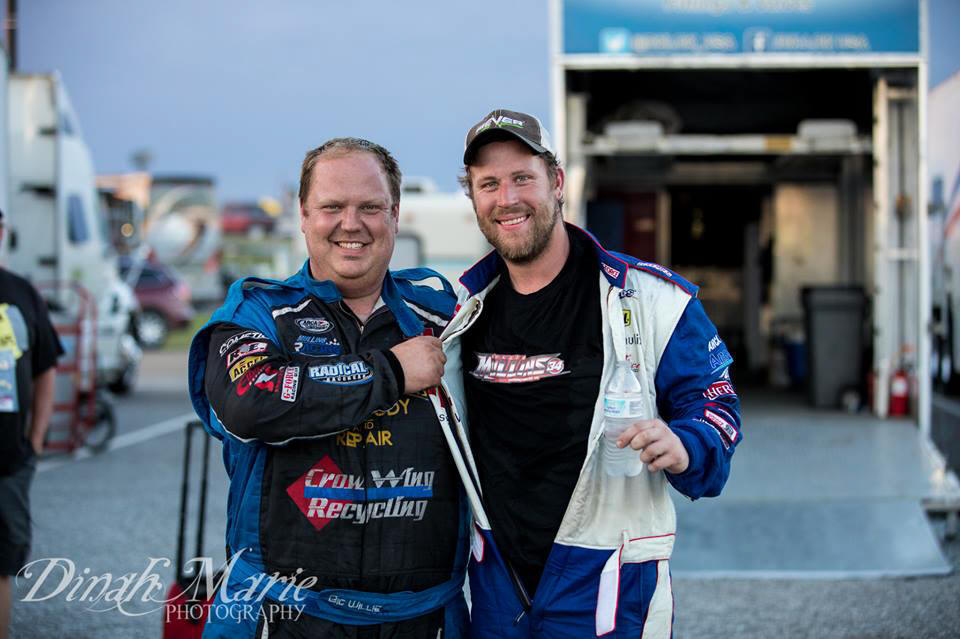 FREDRICSBURG, Va. — When Thomas Praytor and Willie Mullins teamed up as drafting partners during the General Tire 200 at Talladega (Ala) Superspeedway on May 6, it was actually just the latest collaboration between the pair of low-budget racers.
Praytor and Mullins have been helping each other since 2015 when Mullins Racing fielded a car for J.J. Pack in the season opening event at Daytona Int'l Speedway. Praytor let Mullins enter the car with Praytor's 2014 ARCA Racing Series owner points, which allowed Pack to make the race via provisional.
"Coming up to Daytona we didn't have a number with any kind of points," Mullins recalled. "Our crew chief Andy Belmont put us together with Thomas Praytor and we got their points from the previous year. Inevitably that is what got J.J. Pack into the show that first year. By using their points we were able to get that 40th-place starting position at Daytona in 2015."
Praytor, a veteran racer who has 89 ARCA starts under his belt, said the friendship with Mullins grew quickly following that weekend at Daytona in 2015.
"Ever since then we both realized we were small teams and we needed to help each other because that is how racing is these days," Praytor said. "Now we're three or four years down the road and we're still good friends."
Since then Praytor and Mullins have helped each other out many times. In fact, Praytor once let Mullins borrow a sway bar from him for more than nine months. Mullins eventually returned it, but not without a bit of harmless ribbing from Praytor.
"He came walking in the trailer at the end of last year with that sway bar and I said, 'Oh…the infamous sway bar,'" Praytor recalled between laughs. "There it was coming back in to my possession."
As a show of support, and admittedly a bit of a joke, Praytor even wore one of Mullins' T-shirts under his driving suit during the General Tire 200. Mullins admitted when he saw Praytor before the race wearing his shirt, he couldn't help but smile.
"The story behind that is it started off with my girlfriend giving his girlfriend a T-shirt just because of some friendly kidding back and forth," Mullins explained. "Well when we were getting ready to get in the cars he came up to me and said, 'Oh, by the way…' and it was just too funny.
"It actually made my day that someone would go out of their way to make me laugh and it made us feel good and appreciated a little bit. After the race I wanted to make sure I got a picture with him."
Praytor said that picture, taken by Mullins' fiancee Dinah Thompson, is much more than just two racers having a good laugh. It's a pair of friends and competitors who have each other's back.
"When I showed him that I was wearing it and saw the look on his face, I said I guess this does mean a little something," Praytor said. "All I'm sure anybody see's is me wearing a shirt that says 'Big Willie Style' on it and another racer standing next to me. Really nobody knows the meaning of that picture or what is going on, but it is kind of cool to have our own little meaning to the picture.
"Of course it turned out it was the best we'd done at Talladega in quite awhile, so I'll be sure to wear that thing next time out. I'll have to dig it out of the dirty clothes and wear it at Toledo in a couple of weeks," Praytor said with a laugh.
Both Mullins and Praytor say that its important for the small teams, like Mullins Racing and Praytor's Max Force Racing, to work together to combat the bigger teams like Venturini Motorsports and Cunningham Motorsports.
"We don't do this every weekend, so if we're missing something on pit road and we don't have time to go back, those guys are the ones that are there to help us," Mullins said. "At Daytona we needed help on pit road and we went down to the Praytor's and those guys were more than happy to help. They sent a person down to help us because we were having trouble getting the window net up. They saved our qualifying position at Daytona when that happened.
"It's important that all us little guys band together to try and make a little bit bigger of a team to put on a better show for ARCA."
Praytor echoed Mullins' thoughts, saying that people like Mullins are exactly what the phrase "racing family" represents.
"These big, fully funded teams have got every kind of resource you could possibly think of to get whatever they need," Praytor said. "I could think of several occasions where Willie has come down to me or I have gone down to Willie looking for a certain piece that I didn't have but he had or vice versa.
"It just shows how big the racing family is. Willie can walk down to me and take two or three drawers in my toolbox just because he needed it and I wouldn't think twice about it. That's just what we've got to do to make it.
"At the end of the day, it's crazy that a couple of small town guys that don't have a lot of money are getting to compete with the big guys in the ARCA Racing Series at Daytona and Talladega."
LINK to story: https://speedsport.com/stock-cars/arca-stock-cars/praytor-mullins-low-budget-competition/
Picture Dinah Thompson
Praytor Escapes Toledo with 14th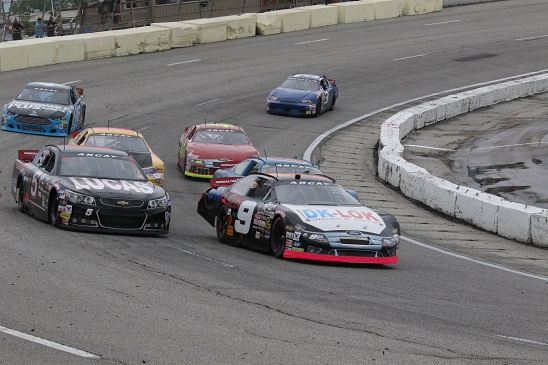 Thomas "Moose" Praytor and his Mobile, Alabama based team have seen good and bad runs at the ARCA Series home track in Toledo, Ohio, with a stacked field of cars Praytor and his DK-LOK team knew they would have their hands full.
Weather once again dominated the weekend with teams dodging rain in route to the Speedway and once on the ground in Toledo.
The first lap of practice was an indicator of what kind of weekend the DK-LOK Ford had ahead when a fellow competitor hit the Moose in the driver's side door ripping the front fender off the Ford.
"There is always a big field of bad ass cars at Toledo and you know it's going to get physical but dang, we hadn't even made lap."
The damage to the DK-LOK Ford was minimal but the tone was set for the weekend.
Later in practice Praytor was behind the 80 of Brian Finney when he suddenly slowed on the race track. Initially Praytor checked up then went around the wounded Finney machine to see it was on fire.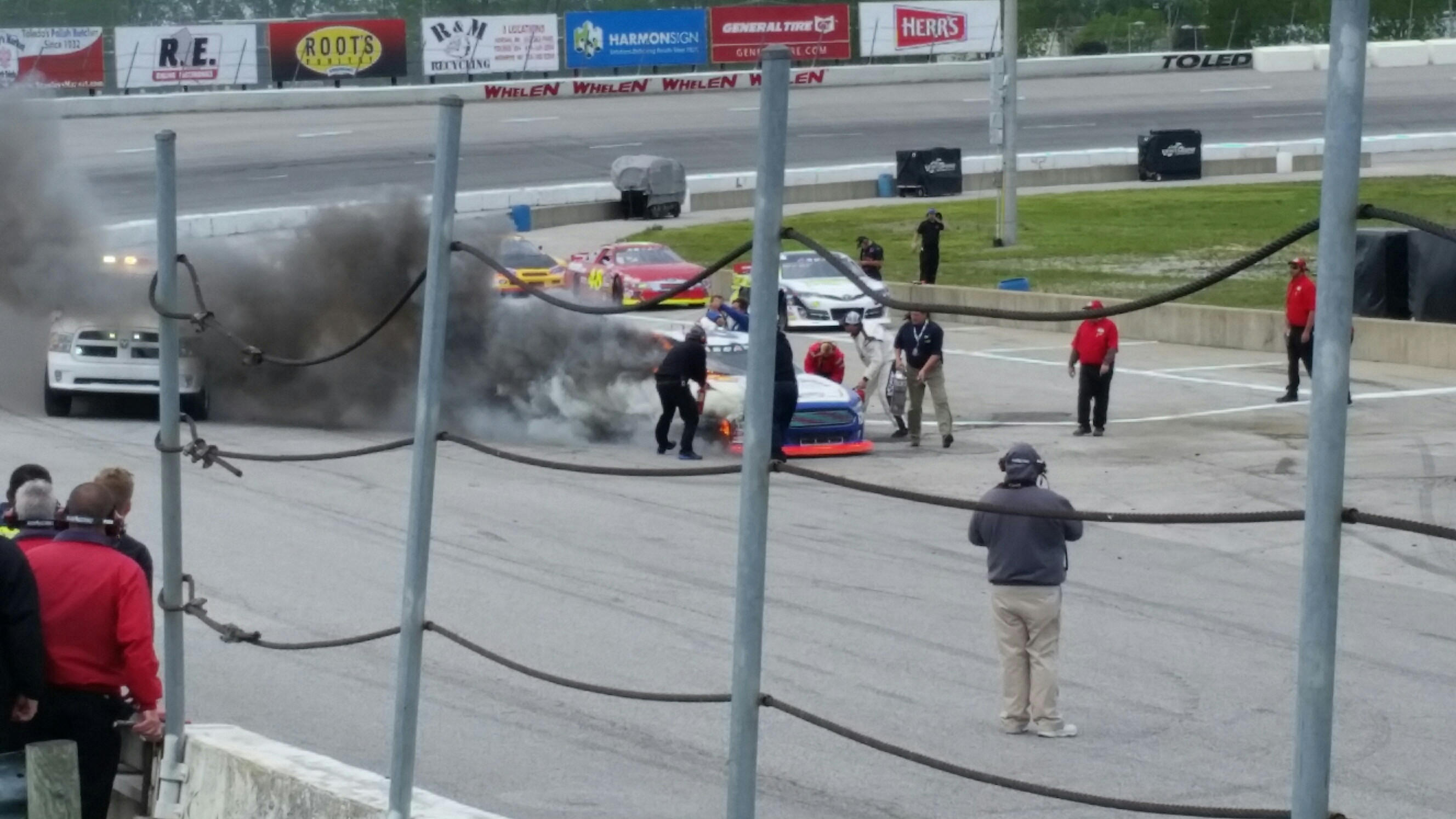 "Hated to see that happen to the Finney's. They are a great racing family and have been great friends and competitors. Glad Brian is OK and I hope they get back to the track really soon."
With the most eventful practice of the year in the rear view mirror Praytor and his team got ready for qualifying. Mother nature took over washing out the rest of the afternoon, the field would roll off by practice times, the DK-LOK Ford 21st.
Race day in Toledo is big even when the weather is not cooperating and a big crowd showed up for autographs before the race.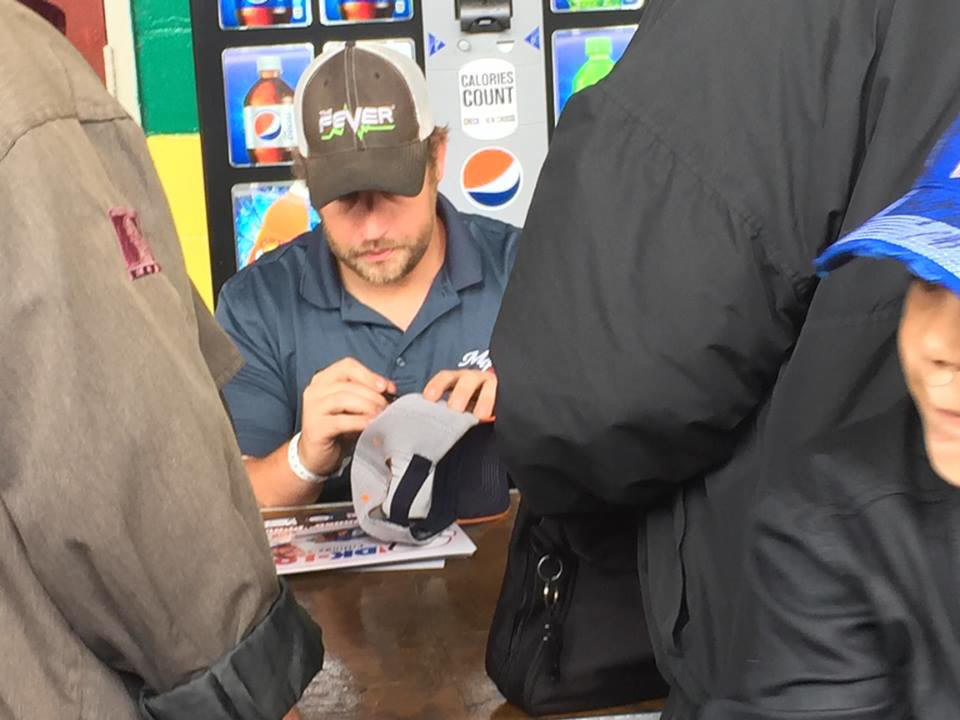 "As one of the guys that's been around the longest now it's fun seeing the some of the same people at certain tracks that are following you all year long."
Rain pushed the start of the Menards 200 back an hour a so but the wait was worth it as the ARCA drivers put on a a 2 wide, 3 wide and even 4 wide thrill show for the next 2 hours.
With the drop of the green everyone was grabbing for all they could get with no one expecting the race to make 200 laps. The Moose picked up 4 spots on the track and stayed in a spirited battle for more until the first caution on lap 45.
Smart money had rain moving back in before 200 laps and the front runners took tires thinking they were racing to lap 100. Praytor stayed out.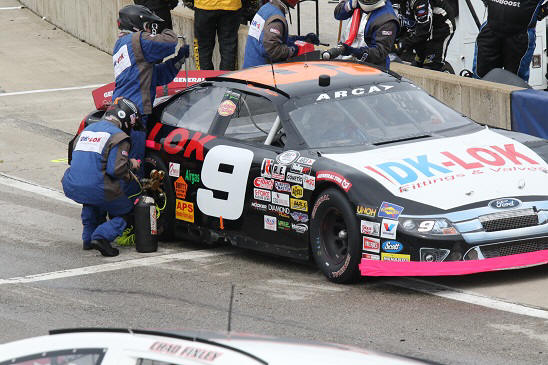 "We felt like our best shot was to hang on until around 50 to go and catch the leaders with old tires."
Under green Praytor was working hard to stay on or near the lead lap holding each position, looking for cautions to save his tires.
"I knew I was supposed to be saving tires but these guys were racing hard and we got in there and mixed it up having a blast."
Mixing it up was an understatement with Praytor spending the bulk of the race side by side and at points 3 wide or even 4 wide.
In order for the teams tire strategy to work timing was the key. You wanted tires soon enough to keep from going a lap down and late enough to be effective against the top 10.
"We missed out tire window by 1 caution and we stayed green too long costing us a lap and keeping us from getting to mix it up with the top 10."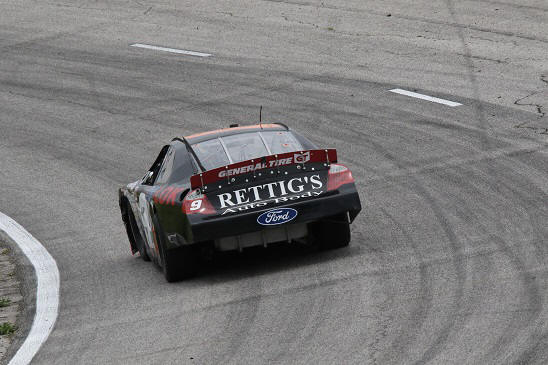 After a wild 200 laps Praytor brought the DK-LOK Ford home 14th, a little battered and bruised but it will be ready for Elko in 2 weeks.
"We had a shot at a little better finish today it just didn't work out. Solid day for our race team, especially considering my track record at Toledo. Crazy racing on the track it's been that way all year and it will get even wilder at Elko."
Team has a week off before heading to Elko Speedway in Minnesota for the Shore Lunch 250.
Picture Top: Moose racing hard with 8 time Daytona Champion Bobby Gerhardt, the duo are clearing a 3 wide move going in to turn one.
Sponsor-GoodBookey Featured in Forbes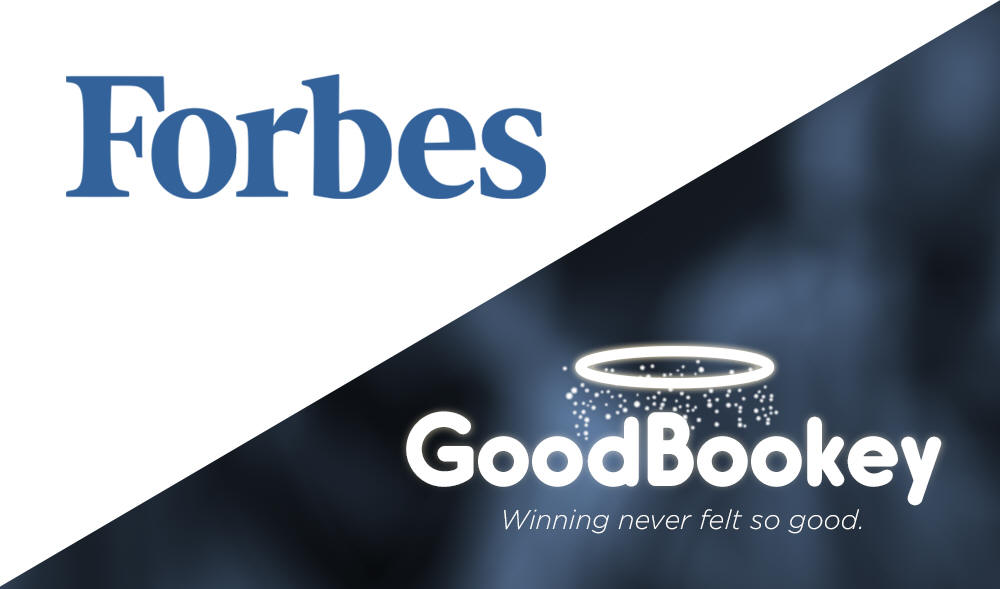 GoodBookey America's online charitable gaming site and sponsor of the Thomas "Moose" Praytor's ARCA car is featured in Forbes. Follow link below for full article:
http://www.forbes.com/sites/matthunckler/2017/01/19/like-betting-on-sports-this-app-turns-lost-bets-into-charitable-donations/#2b79519b5d52
Watch GoodBookey President Tony Pease and Operations Officer Sarah Deasy give a short presentation on GoodBookey using their involvement with racing as part of their presentation.
"Congratulations to the entire GoodBookey team on being recognized by Forbes. We had a lot of fun with GoodBookey and The Chive Charites on the car in Kentucky and Kansas," said Praytor. "They are making a difference in a fun way that everyone can be involved with. I'm taking all bets against the Patriots, download the app and put your money up!"
ARCA Get to Know Thomas Praytor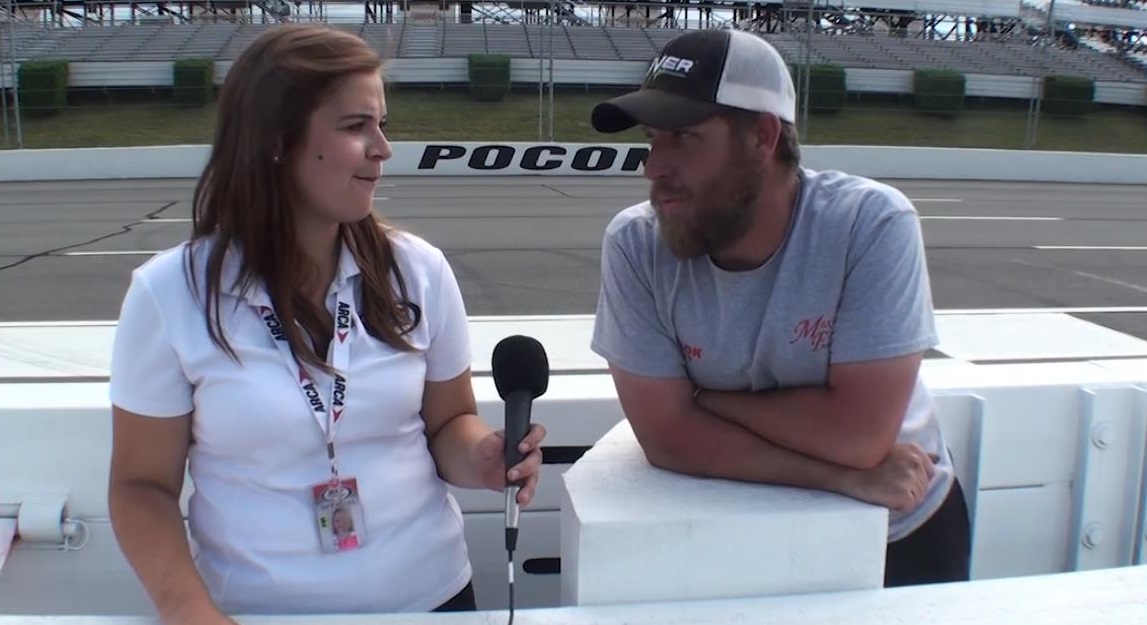 In 2016 ARCA has been producing a series of "Get To Know" video segments with some of the top drivers in the Series. Unfortunately, they sent the newest addition to the ARCA PR team Katie Wernke to interview Thomas "Moose" Praytor. The actual interview was over 30 minutes long but Katie was only able to salvage about 3 minutes to use for this segment. You get a sense in the first 10 seconds that this interview is already off the tracks, Thomas picked inside the safer barrier at Pocono for the location. If you were ever wondering if race car drivers were let's say different, well here is your answer.
http://www.arcaracing.com/videos/2028940
Lets Talk Racing!


Listen to Inside Alabama Racing live at 6:00 PM CST on Wednesday on WNSP 105.5
or click below to listen on your computer-
WNSP 105.5
This site and our team are dedicated to winning and having fun. Each week during the season we will update this site with a report of racing action from the previous week. We will also be posting pictures of the team and scenes from the track. Originally this site was designed for Tommy Praytor and his Fat Boy Racing team. Over the last few years Tommy's son Thomas has been making a mark on the racing scene and Thomas's or Thomoose's racing has been added to our site. On June 4th, 2001 the Praytor family lost their third child, Max. In 2002 we changed the name of our combined racing efforts to Max Force Racing in his memory.
This page was last updated on 07/19/17.