Race Recaps 2017
Mullins & Praytor: Low Budget Fast Competition
Speed Sport News, By: Adam Fenwick
.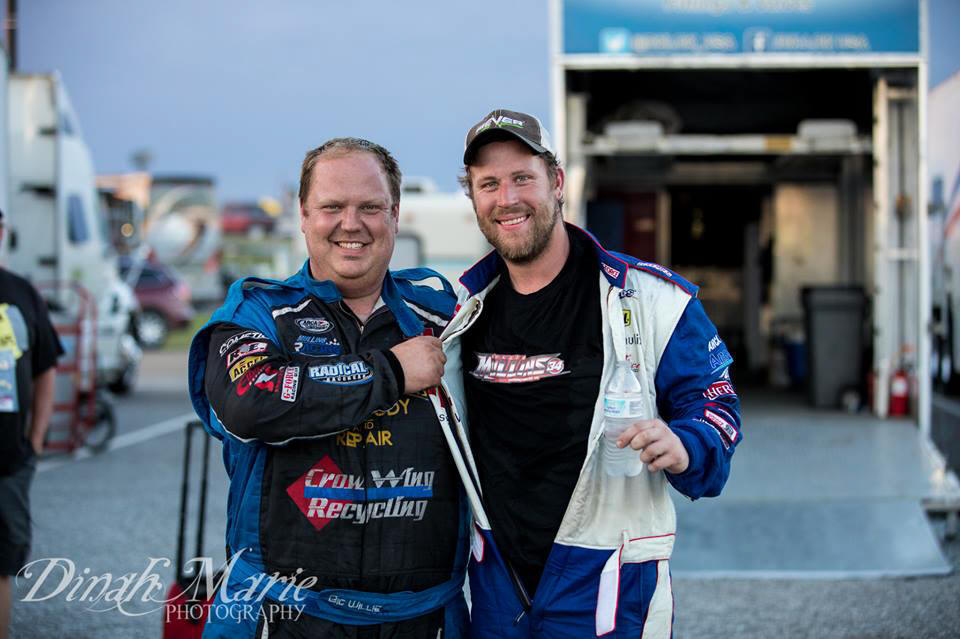 FREDRICSBURG, Va. — When Thomas Praytor and Willie Mullins teamed up as drafting partners during the General Tire 200 at Talladega (Ala) Superspeedway on May 6, it was actually just the latest collaboration between the pair of low-budget racers.
Praytor and Mullins have been helping each other since 2015 when Mullins Racing fielded a car for J.J. Pack in the season opening event at Daytona Int'l Speedway. Praytor let Mullins enter the car with Praytor's 2014 ARCA Racing Series owner points, which allowed Pack to make the race via provisional.
"Coming up to Daytona we didn't have a number with any kind of points," Mullins recalled. "Our crew chief Andy Belmont put us together with Thomas Praytor and we got their points from the previous year. Inevitably that is what got J.J. Pack into the show that first year. By using their points we were able to get that 40th-place starting position at Daytona in 2015."
Praytor, a veteran racer who has 89 ARCA starts under his belt, said the friendship with Mullins grew quickly following that weekend at Daytona in 2015.
"Ever since then we both realized we were small teams and we needed to help each other because that is how racing is these days," Praytor said. "Now we're three or four years down the road and we're still good friends."
Since then Praytor and Mullins have helped each other out many times. In fact, Praytor once let Mullins borrow a sway bar from him for more than nine months. Mullins eventually returned it, but not without a bit of harmless ribbing from Praytor.
"He came walking in the trailer at the end of last year with that sway bar and I said, 'Oh…the infamous sway bar,'" Praytor recalled between laughs. "There it was coming back in to my possession."
As a show of support, and admittedly a bit of a joke, Praytor even wore one of Mullins' T-shirts under his driving suit during the General Tire 200. Mullins admitted when he saw Praytor before the race wearing his shirt, he couldn't help but smile.
"The story behind that is it started off with my girlfriend giving his girlfriend a T-shirt just because of some friendly kidding back and forth," Mullins explained. "Well when we were getting ready to get in the cars he came up to me and said, 'Oh, by the way…' and it was just too funny.
"It actually made my day that someone would go out of their way to make me laugh and it made us feel good and appreciated a little bit. After the race I wanted to make sure I got a picture with him."
Praytor said that picture, taken by Mullins' fiancee Dinah Thompson, is much more than just two racers having a good laugh. It's a pair of friends and competitors who have each other's back.
"When I showed him that I was wearing it and saw the look on his face, I said I guess this does mean a little something," Praytor said. "All I'm sure anybody see's is me wearing a shirt that says 'Big Willie Style' on it and another racer standing next to me. Really nobody knows the meaning of that picture or what is going on, but it is kind of cool to have our own little meaning to the picture.
"Of course it turned out it was the best we'd done at Talladega in quite awhile, so I'll be sure to wear that thing next time out. I'll have to dig it out of the dirty clothes and wear it at Toledo in a couple of weeks," Praytor said with a laugh.
Both Mullins and Praytor say that its important for the small teams, like Mullins Racing and Praytor's Max Force Racing, to work together to combat the bigger teams like Venturini Motorsports and Cunningham Motorsports.
"We don't do this every weekend, so if we're missing something on pit road and we don't have time to go back, those guys are the ones that are there to help us," Mullins said. "At Daytona we needed help on pit road and we went down to the Praytor's and those guys were more than happy to help. They sent a person down to help us because we were having trouble getting the window net up. They saved our qualifying position at Daytona when that happened.
"It's important that all us little guys band together to try and make a little bit bigger of a team to put on a better show for ARCA."
Praytor echoed Mullins' thoughts, saying that people like Mullins are exactly what the phrase "racing family" represents.
"These big, fully funded teams have got every kind of resource you could possibly think of to get whatever they need," Praytor said. "I could think of several occasions where Willie has come down to me or I have gone down to Willie looking for a certain piece that I didn't have but he had or vice versa.
"It just shows how big the racing family is. Willie can walk down to me and take two or three drawers in my toolbox just because he needed it and I wouldn't think twice about it. That's just what we've got to do to make it.
"At the end of the day, it's crazy that a couple of small town guys that don't have a lot of money are getting to compete with the big guys in the ARCA Racing Series at Daytona and Talladega."
LINK to story: https://speedsport.com/stock-cars/arca-stock-cars/praytor-mullins-low-budget-competition/
Picture Dinah Thompson
Praytor Escapes Toledo with 14th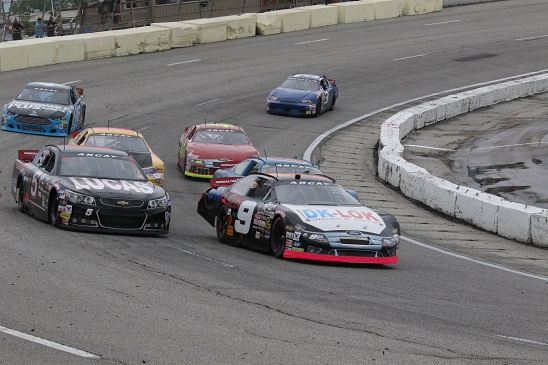 Thomas "Moose" Praytor and his Mobile, Alabama based team have seen good and bad runs at the ARCA Series home track in Toledo, Ohio, with a stacked field of cars Praytor and his DK-LOK team knew they would have their hands full.
Weather once again dominated the weekend with teams dodging rain in route to the Speedway and once on the ground in Toledo.
The first lap of practice was an indicator of what kind of weekend the DK-LOK Ford had ahead when a fellow competitor hit the Moose in the driver's side door ripping the front fender off the Ford.
"There is always a big field of bad ass cars at Toledo and you know it's going to get physical but dang, we hadn't even made lap."
The damage to the DK-LOK Ford was minimal but the tone was set for the weekend.
Later in practice Praytor was behind the 80 of Brian Finney when he suddenly slowed on the race track. Initially Praytor checked up then went around the wounded Finney machine to see it was on fire.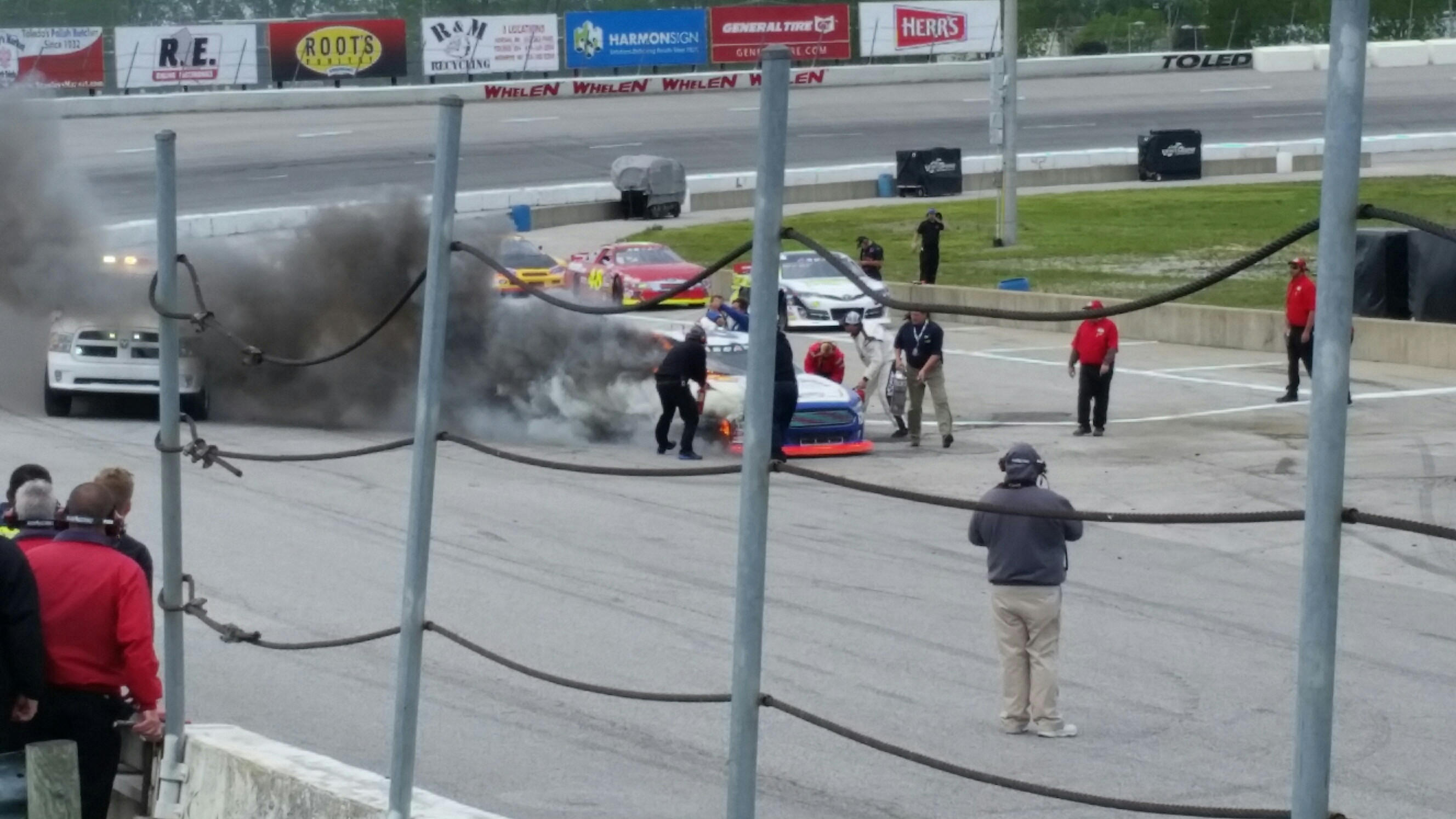 "Hated to see that happen to the Finney's. They are a great racing family and have been great friends and competitors. Glad Brian is OK and I hope they get back to the track really soon."
With the most eventful practice of the year in the rear view mirror Praytor and his team got ready for qualifying. Mother nature took over washing out the rest of the afternoon, the field would roll off by practice times, the DK-LOK Ford 21st.
Race day in Toledo is big even when the weather is not cooperating and a big crowd showed up for autographs before the race.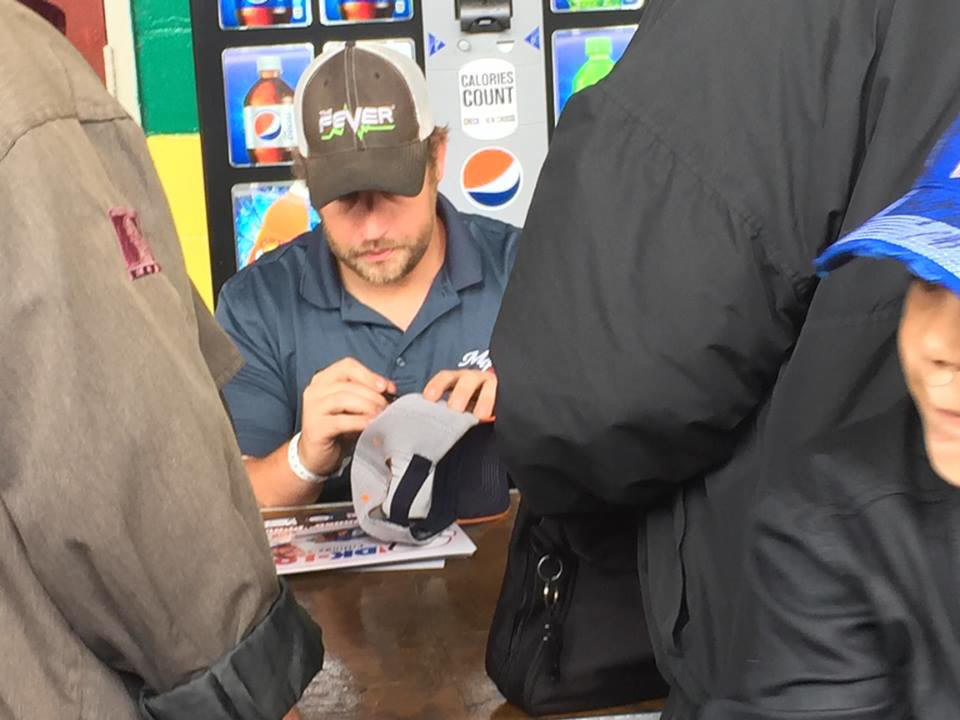 "As one of the guys that's been around the longest now it's fun seeing the some of the same people at certain tracks that are following you all year long."
Rain pushed the start of the Menards 200 back an hour a so but the wait was worth it as the ARCA drivers put on a a 2 wide, 3 wide and even 4 wide thrill show for the next 2 hours.
With the drop of the green everyone was grabbing for all they could get with no one expecting the race to make 200 laps. The Moose picked up 4 spots on the track and stayed in a spirited battle for more until the first caution on lap 45.
Smart money had rain moving back in before 200 laps and the front runners took tires thinking they were racing to lap 100. Praytor stayed out.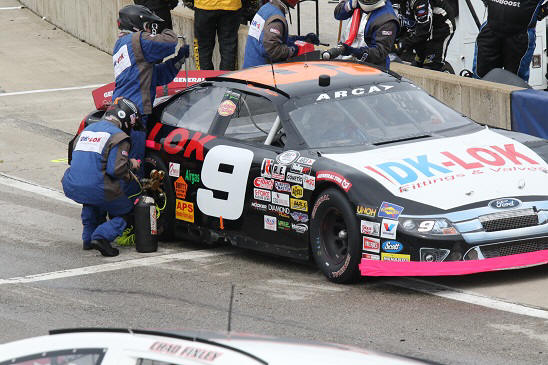 "We felt like our best shot was to hang on until around 50 to go and catch the leaders with old tires."
Under green Praytor was working hard to stay on or near the lead lap holding each position, looking for cautions to save his tires.
"I knew I was supposed to be saving tires but these guys were racing hard and we got in there and mixed it up having a blast."
Mixing it up was an understatement with Praytor spending the bulk of the race side by side and at points 3 wide or even 4 wide.
In order for the teams tire strategy to work timing was the key. You wanted tires soon enough to keep from going a lap down and late enough to be effective against the top 10.
"We missed out tire window by 1 caution and we stayed green too long costing us a lap and keeping us from getting to mix it up with the top 10."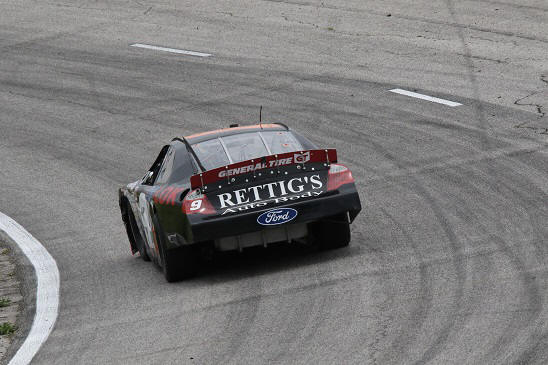 After a wild 200 laps Praytor brought the DK-LOK Ford home 14th, a little battered and bruised but it will be ready for Elko in 2 weeks.
"We had a shot at a little better finish today it just didn't work out. Solid day for our race team, especially considering my track record at Toledo. Crazy racing on the track it's been that way all year and it will get even wilder at Elko."
Team has a week off before heading to Elko Speedway in Minnesota for the Shore Lunch 250.
Picture Top: Moose racing hard with 8 time Daytona Champion Bobby Gerhardt, the duo are clearing a 3 wide move going in to turn one.
ARCA Home Track Awaits Praytor & Series Regulars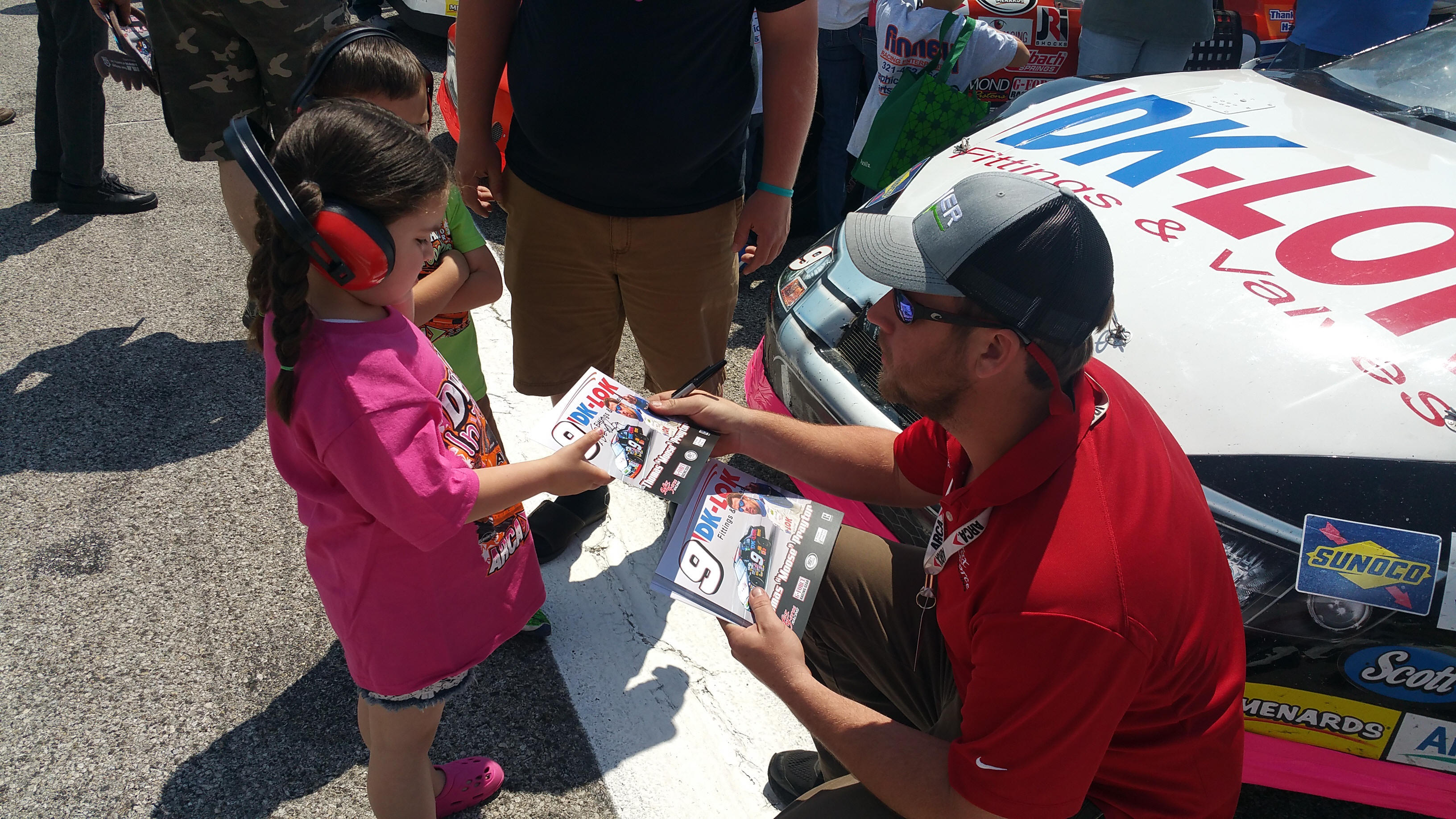 MENARDS 200 presented by Federated Car Care at TOLEDO SPEEDWAY: The ARCA Series returns to its home base this weekend at Toledo Speedway. Over the years Praytor has had a love hate relationship with the big half mile in Ohio. "I love racing there but there are times I don't think the track like me very much." Several year ago the Alabama native tried to knock the turn 3 wall down destroying a lot of foam in what the team calls Foamageddon.
LINK TO FOAMAGGEDON: https://www.youtube.com/watch?v=KgA7CiOaDVY
This year the team is coming off a fantastic outing at Talladega that shot the Moose in to the top 10 in the ARCA standings for the first time this season. "We had a lot of fun at Talladega a lot of friends, family and sponsors always good to run up front in Alabama."
MEET THE MOOSE: The Moose will be meeting fans and signing autographs Sunday May 21st on the front stretch from Noon – 1:00PM CST at Toledo Speedway.
MOOSE STILL HEALING: Praytor burned his right heal with a 2nd degree burn in Salem. The 4" x 2" blister is down to a 1"x2" but is still causing a limp still.
The Menards 200 is a 3 day event at Toledo Speedway with Rig Parking Friday night followed by technical inspection, practice and General Tire Pole Qualifying on Saturday with the Menards 200 kicking off at 1:00PM CST. Live timing and scoring for practice, qualifying and the race will be on ARCARacing.com. The race will be broadcast on Fox Sports 1 at 4PM CST.
PRIMARYSPONSOR: DK-LOK Fittings & Valves www.dklokusa.com
ASSOCIATE SPONSORS: ASSOCIATE SPONSORS: G-Force, Nudraulix, REALTOR, Rettigs Auto Body, APS Automotive Painters Supply, Dueitt's Battery Supply, Airgas, John Thompson & Associates, Judy's Place, Greer's Food Market, AQUASALT, Wade Distributing, Campbell, Duke & Campbell, Omni Fitness, Golden Flake, Mobile County Sheriff's Office, Praytor Realty
ARCA CHAMPIONSHIP STANDING: 10th
CAR: Roush Chassis #461,"Black Betty"-Black Betty has been the team's short track stalwart and was the 2nd car the team purchased. Praytor drove the Moose to his career best ARCA finish of 7th at the ARCA Mobile 200 and was utilized in Salem earlier this year.* Praytor's DK-LOK Ford is powered by Roush Yates Ford Motors
WHAT TO LOOK FOR THIS WEEKEND: Toledo is a lot like Mobile International Speedway, a big half mile, wide and very fast. Tires are important but not like at Salem Speedway a few weeks ago. The turn 1 bleachers are actually part of the upper deck from Michigan International Speedway and are usually packed.
TOLEDO SPEEDWAY:
.5 Mile Paved Oval, with 12 and 13 degree banking with 4 degree straight
Thomas Praytor Tapped as WKRG TV 5 Good Sport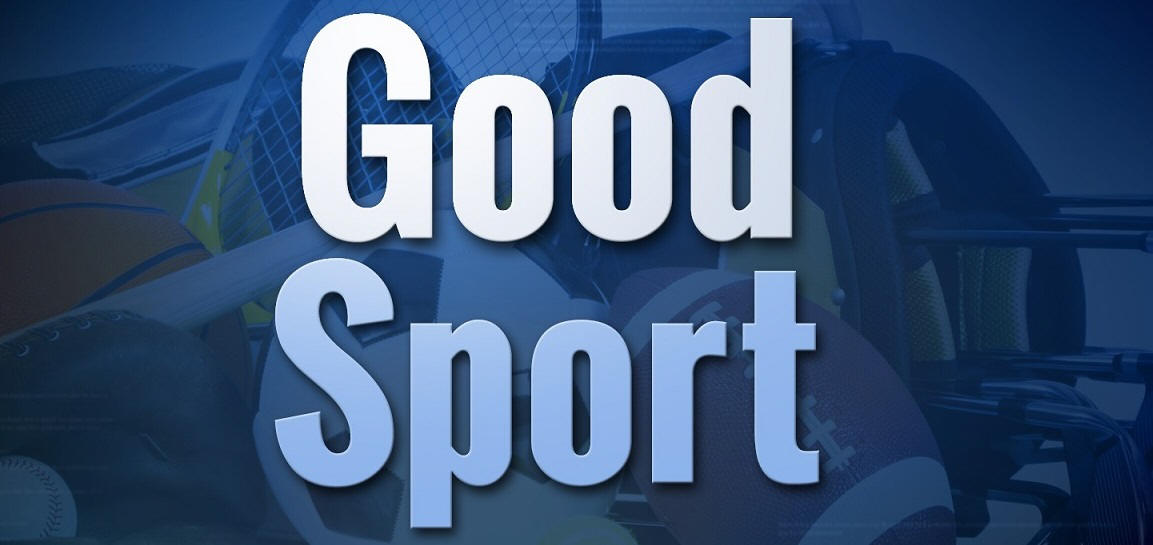 Talladega Week in Alabama was the perfect backdrop for WKRG TV 5 Sports Director Randy Patrick to recognize Mobile, Alabama's Thomas "Moose" Praytor.
Praytor was named WKRG TV 5 Good Sport for his work off the race track with numerous charitable organizations including the Alabama Institute for the Deaf and Blind at Talladega.
http://wkrg.com/2017/05/07/the-praytors-go-the-extra-mile-beyond-the-race-tracks/
"Giving back has been ingrained us from my Grandmother (Jamie Praytor), not only is the right thing to do it is a lot of fun. To be recognized by Mr. Randy and the folks at Channel 5 is very humbling."
Alabama's Praytor Puts On A Show at Talladega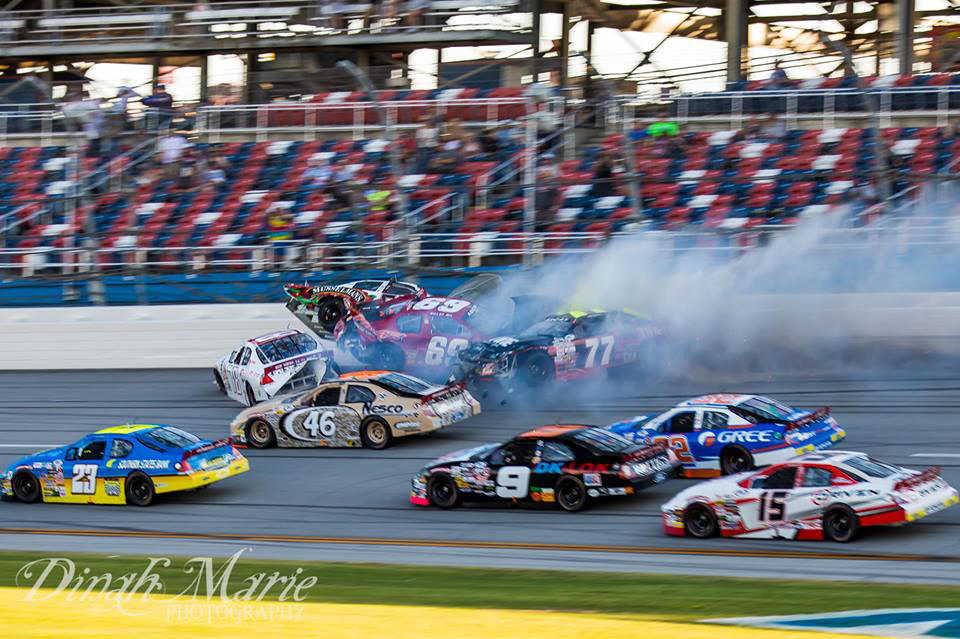 For Thomas "Moose" Praytor and his Mobile, Alabama based Max Force Race Team Talladega is more than just a race, it's a Homecoming filled with family, friends, fans, sponsors, special guest and an opportunity for the Moose to put on a show in front of the home state fans.
A short week after the Kentuckiana Ford Dealers 200 in Salem had Praytor and his team hopping back at the shop in Mobile. The Super Speedway car was delivered from the paint booth at Rettigs Auto on Monday and the team put the finishing touches on the Alabama Institute for Deaf & Blind (AIDB) Ford for Talladega.
What was already a long weekend got longer when the team pulled out of Mobile Thursday night to only make it 13 miles up the interstate before coming to a dead stop for 5 hours for an accident. A little late for Tech Day on Thursday but the team got to Talladega just in time for the rain.
A long tech day and a lot of rain on Thursday led to a lot of rain on Friday morning causing the schedule to be turned upside down. At just after lunch the ARCA teams got a 30 minute practice session to shake down their cars.
Praytor made a quick 4 laps on the race track, the team took care of a wheel rub and the car cover was put back over the AIDB Ford Fusion for the General Tire 200 slated for later in the day.
All of the work to the AIDB Ford had been done in Mobile after the car was wrecked in Daytona. "We felt really good about our car, we've learned a lot over the years about air and the guys at Rettigs worked really hard slicking our car back up for Talladega. We didn't see any need to put laps on our car or take a chance drafting."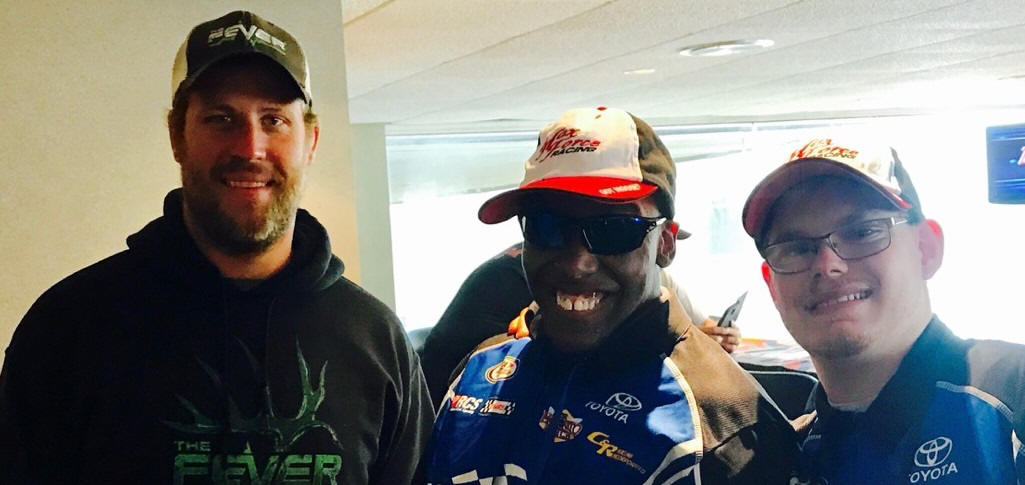 Mother Nature refused to cooperate on Friday for racing but it gave Praytor a lot of time to talk with the crowd gathering at the Max Force Hauler including the team's special guest from AIDB. "We have always participated in the AIDB Race Fever Auction and spending time with the kids is what it's all about. They are reworking the Auction this year so we had a couple of the kids come out to the track so we could spend some time with them and what a blast!" (DeKendrick Graves & Jeffrey Oliver)
While the rain dragged on, Associate Sponsor, AQUASALT had a suite loaded with guests and the Moose gathered up his new buddies from AIDB and went visiting. "Suite visits are so much fun. The people in the suite are having a good time, they are pulling for you and they just get you pumped up. Of course I had my two straight men with me Dee and Jeff and they can put a smile on anybody's face."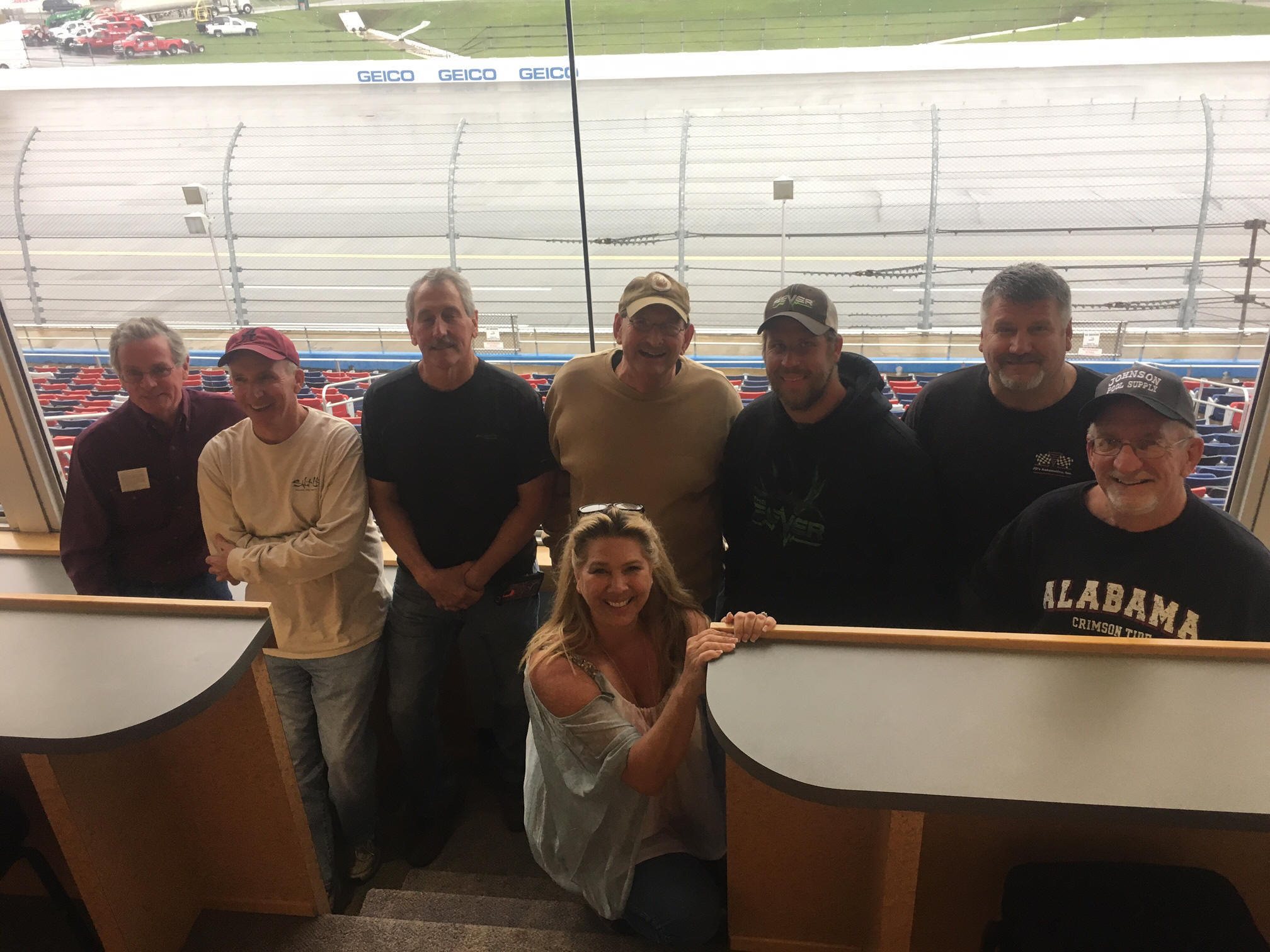 Unfortunately the Suite visit ran longer than expected because the rain never let up, racing was cancelled for Friday afternoon and moved to Saturday afternoon. A special shout out to Talladega Superspeedway for making room for our AQUASALT folks to stay for Saturday.
After another long day of doing nothing other than waiting for 5:00PM Praytor and his team were beyond ready to race. "You get your mind set to go on Friday, you do all these things that you do on a normal race day, then you don't race, then it's another 24 hours and you go through the whole process again."
The AIDB Ford would finally roll off 10th, Praytor and his Spotter Tab Boyd (Playing hooky from Joey Logano) were ready to go. With the drop of the green flag, the Moose guided by Boyd rumbled to the front and made his way up to the 6th spot before the General Tire 200 would finally settle down.
"Tab was doing an awesome job from the roof and we had a really fast car, a little darty but fast."
At lap 25 the caution flag was out for debris on the track. Team calculations before the race said they needed to get to lap 30 before they were good to the end. This was the same predicament the team found itself in Daytona.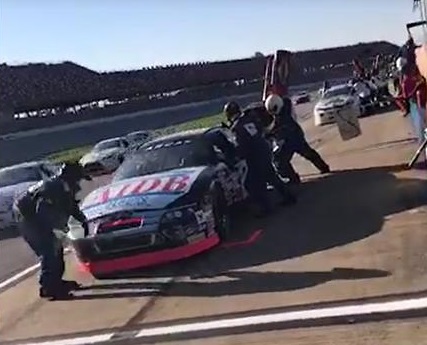 In Daytona the team stayed out while the rest of the field gambled and came in for fuel. In Talladega the AIDB Ford was called to pit road for a fuel only stop. "We let it all hang out in Talladega."
With the ARCA Series racing in companion with the NASCARs Xfinity Series and the Monster Cup Series a lot of teams opted for pit road help from the NASCAR garage, we stuck with our all UNOH crew and they held serve with the best in the business only giving up 2 spots on pit road.
Back under green Boyd and Praytor were moving in unison as the Moose rumbled up to 4th. "Tab does such a good job, he sees stuff before it happens and helps us get the runs we need it in the draft."
The AIDB Ford settled in to the 5th spot and started logging laps, setting up how to take on the finish.
Praytor dodge the big one (pic at top of story) but a new problem was developing for the Alabama native, 3rd gear was gone. The problem with losing 3rd gear is each restart bogged Praytor down until he could get up to speed allowing cars to drop down in front of him pushing him back in the running order.

"It was really frustrating, we had such a great car and the motor was still going but our car just wouldn't go." With each late caution the transmission started to rattle in every gear as the missing pieces off 3rd gear started bouncing around inside.
As the final laps wore down Praytor slipped all the way back to 16th and under one of the cautions the AIDB Ford came to pit road and topped off with fuel to eliminate the fuel gamble. The move gave Praytor breathing room when the race went to over time.
A caution on the final lap set the field, for a one lap dash for cash. Boyd and Praytor put together a restart plan that catapulted the AIDB Ford forward on the final restart picking up 4 spots on the final lap coming home 12th, a career best at Talladega.
"We had a great weekend at Talladega. Twelfth was a little disappointing after running in the top 5 all day but we continue to show speed everywhere we go. It was really a great weekend, so many friends, a lot of support from Mobile. Thanks to AIDB for letting us be a part of their tremendous program."
After a big weekend there was only one thing left to do on Saturday night, well it is Talladega!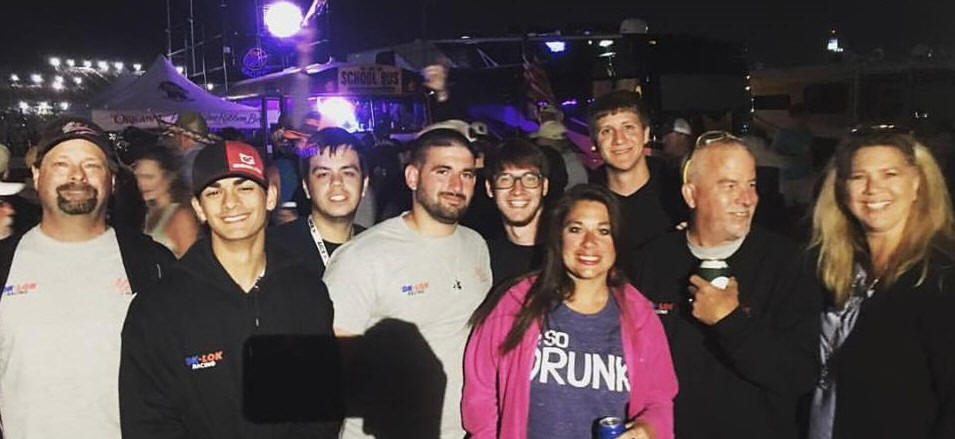 A week off and the Series heads to Toledo for the Menards 200 on Sunday May 21st, live on Fox Sports 1.
Praytor Teams With Alabama Institute Deaf & Blind At Talladega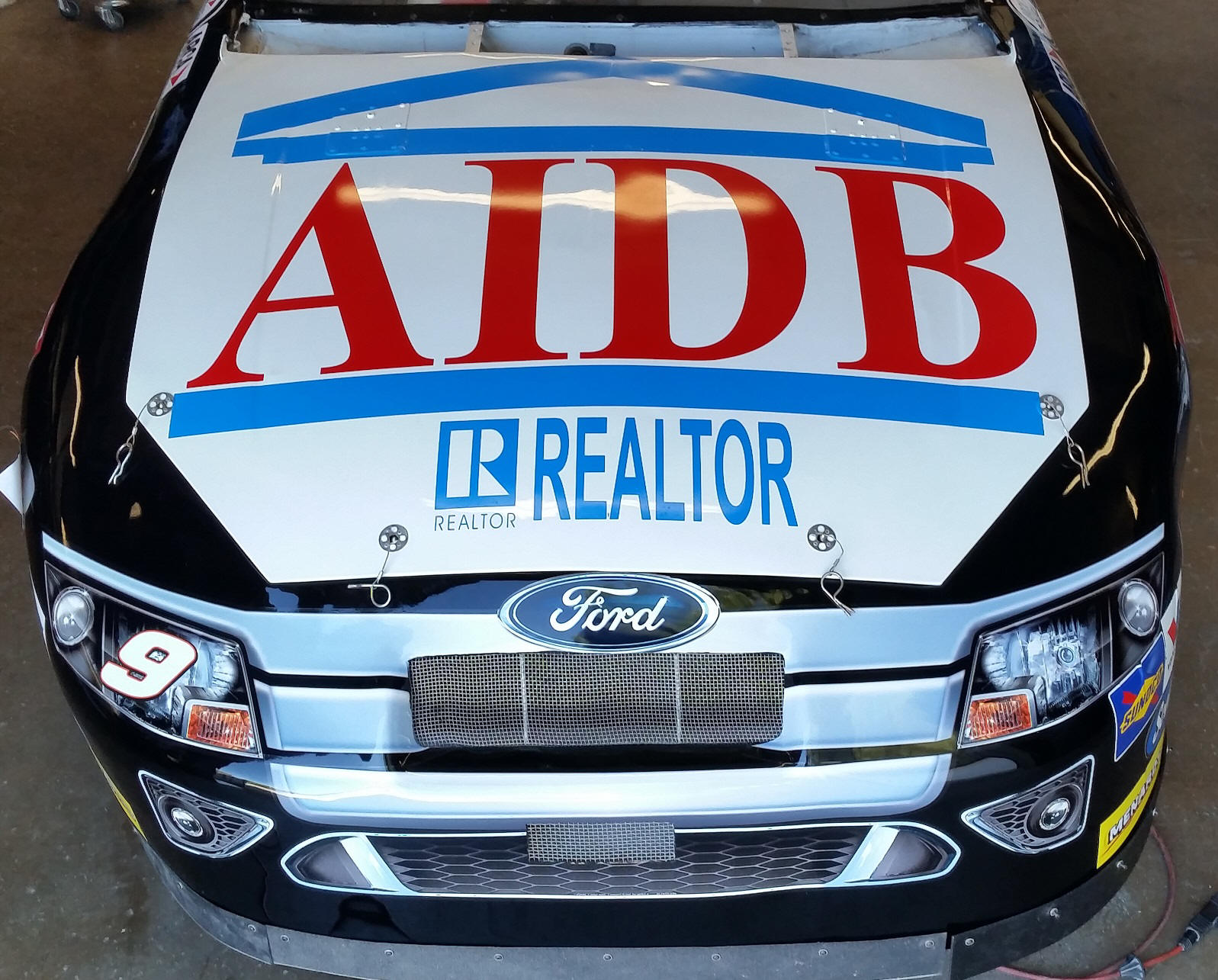 GENERAL TIRE 200 AT TALLADEGA SPEEDWAY: Thomas "Moose" Praytor is teaming up with the Alabama Institute for Deaf and Blind (AIDB) for Friday's General Tire 200 at Talladega Superspeedway. Praytor has been a long-time supporter of AIDB having donated auction items to Race Fever while spending time with the kids. "We say we do it for the kids but the kids make you feel really special when your with them, I know I get more out of it then they do." This year's annual Race Fever Event and Auction has been postponed and the Moose is taking his support to the track with a special AIDB hood and having some of the students join the crew on race day.
While Praytor's Alabama based team spends most of the season traveling to far off tracks, Talladega is a rare racing opportunity in front of the "hometown" crowd. "The insanity of the draft is awesome, but my favorite part about coming to Talladega, is I am surrounded by my friends, family and my home state fans."
MOOSE PLAYING HURT AT TALLADEGA: The 100 plus lap green flag run at Salem last week burned Praytor's right foot. The heat from the floorboard burned through Praytor shoe creating a 2" x 4" burn blister on his heel. Team Doctor Lynn Dyess has been treating the 2nd degree burn all week in preparation for Talladega. Dyess has fashioned a special bandage to allow the heel to have clearance inside Praytor right G-Force Boot. When asked about driving at Talladega with a burned right foot Praytor responded, "It's OK, its Talladega my heel never touches the car anyway."
SALTY SUITE TIME AT TALLADEGA: Praytor will be making an appearance on Friday after qualifying with the employees and guest of Associate Sponsor AQUASALT in their suite overlooking Talladega Superspeedway. Founded in 1928, AQUASALT is the purest salt available for swimming pool and spa chlorine generators.
The General Tire 200 is a 2 day event starting with technical inspection Thursday. The gates open bright and early at 6 am Friday morning for an incredible day of events, starting with practice at 8:30. We will then roll into General Tire qualifying at 2:30 pm, and the green flag will drop at 5PM CST. Live timing and scoring for practice, qualifying and the race will be on ARCAracing.com. The race will be broadcast live on Fox Sports 1. Also, please follow us on Twitter (@DKLOKRacing), Instagram (Thomas Praytor), and Facebook (Dk-Lok Racing) for live trackside updates from our PR team.
Fuel Hiccup Cost Praytor Top 10 at Salem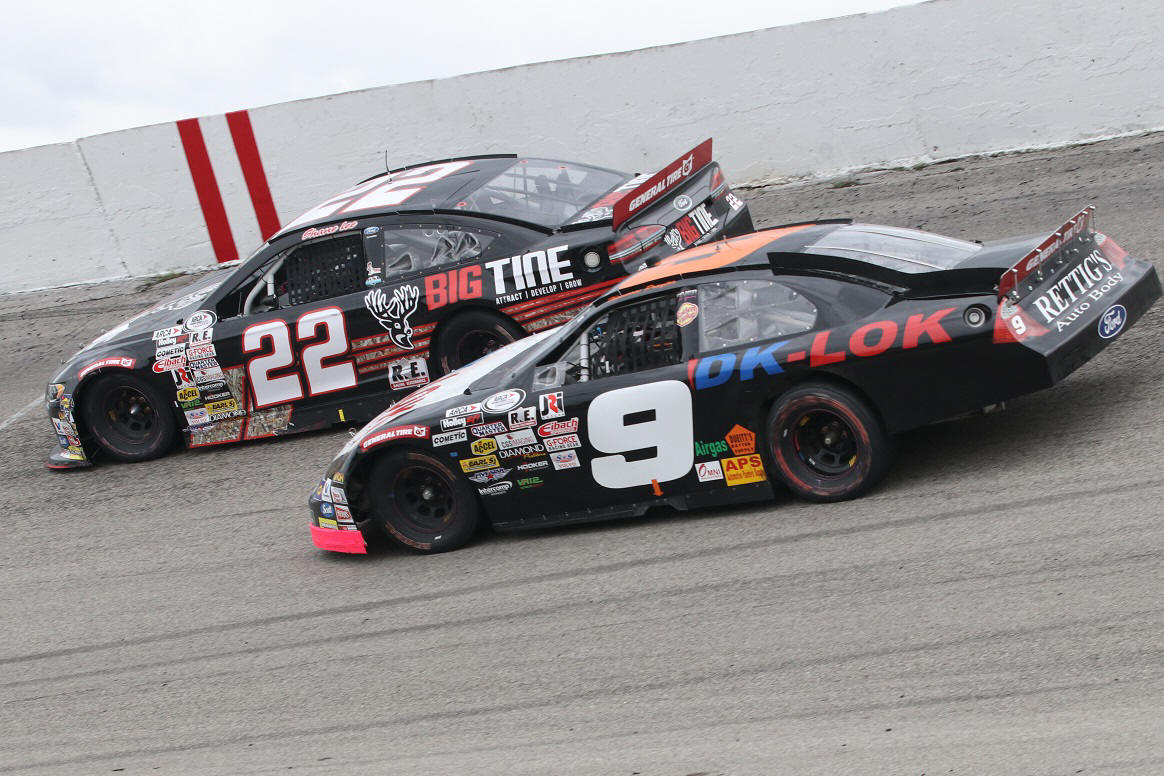 After two DNFs to start the season Thomas "Moose" Praytor and his DK-LOK Team were looking forward to the friendly confines of Salem Speedway and the Kentuckiana Ford Dealers 200.
"We have so many laps at Salem plus we had our best car we really felt good after being beat up the in the first two races."
While the DK-LOK team was ready for a good weekend Mother Nature had other plans with a deluge on Saturday morning that flooded the racetrack.
ARCA officials cancelled qualifying, pushed back the schedule and with a little help from upstairs teams were able to get a solid hour of practice in on Saturday afternoon.
"We had a solid practice, old Black Betty never missed a beat. We chased the track just a little going from green (rubber washed off during rain) to really blacked in. I think we missed our gear selection a little which hurt us on the short run but would come back and help us during the race."
With qualifying rained out the field was set by practice times and the Moose would roll of 16th.
"We made a lot of changes to our DK-LOF Ford anticipating the track changes with more rubber being laid down during the stock race before us and the rubber build up with the ARCA cars, it really paid off."
With the drop of the green flag Praytor was on conserve mode trying to save tires at the old abrasive track. After an early caution at lap 20 the race took on a green flag look going over 100 more laps without a caution.
The Moose who grew up turning laps at another old track, Pensacola's 5 Flags Speedway was waiting for them. On que at lap 80 Praytor turned the wick up and the cars running away from the DK-LOK Ford quit moving forward and started coming back.
"I love old wore out tracks because it equals the equipment playing field and it turns into a driver versus driver event."
With the IImor advantage gone, body advantage gone, weight advantage gone, for the first time since Daytona Praytor was on an even playing field with the rich kids. The 27 year old ARCA Ironman put on a clinic for racing on old tires.
By lap 90 the Moose was passing top 10 cars by lap 100 he was in the top 5 and was now lapping himself from other top 10 cars.
"I had a lot of fun passing cars then I had even more fun lapping them."
At first the kids struggled to keep Praytor behind them, then they were getting out of his way while being lapped. The Moose rumbled up into the top 10 before the caution flag flew at lap 126 then the weirdest thing happened, the DK-LOK Ford just quit.
"At first I thought we had an electrical issue, then I realized we were out of gas." A normal gas load should have taken the team to lap 150 or so. "This is the first time this fuel cell has been run since it was inspected, we obviously have something going on inside there we need to get fixed."
The safety truck got to the stranded DK-LOK Ford quickly but not quick enough to keep from giving up valuable laps earned under the long green flag run and a top 10 finish was gone.
For the rest of the race Praytor held his 14th spot and brought the DK-LOK Ford home without a scratch.
"It's amazing how clean our car is with all the racing forwards and backwards we did today. Nice to load one up without a wrecker, ready to be back home in Talladega."
Short week for team DK-LOK as the ARCA teams report to Talladega Superspeedway Thursday morning at 6:00AM for General Tire 200 on Friday afternoon live on Fox Sports 1.
Picture: Moose rumbling past Cunningham Motorsports Shane Lee during the Kentuckiana Ford Dealers 200 at Salem Speedway.
Moose Heads To Salem Looking For a Good Luck Charm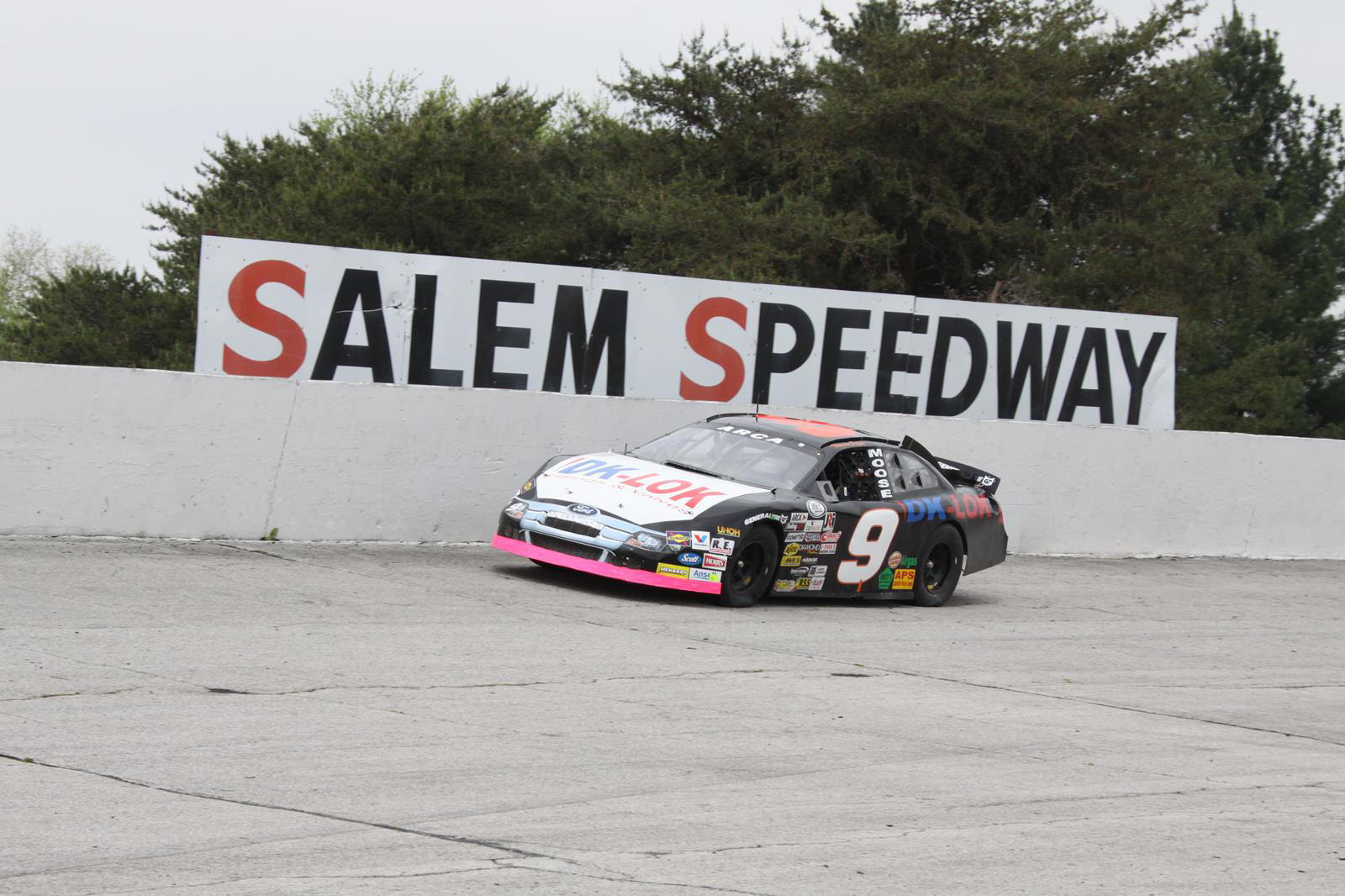 Kentuckiana Ford Dealers 200 at Salem Speedway: Thomas "Moose" Praytor and his DK-LOK Team have already collected more DNFs in the first 2 races of 2017 than they have the last 2 seasons combined. "It's frustrating for team that is known for going the distance but we have had very competitive race cars in the first 2 races." Salem is the perfect place for Praytor needing a solid finish, Praytor has more starts at Salem than any other track on the tour. "Really like Salem, old wore out place, bad fast, taking Black Betty, looking forward to it." This weekend will be Praytor's first weekend as ARCA's Active Ironman,"I just really can't thank everyone enough that has gotten me to this point from my family and friends to all of our sponsors to the other crews at the racetrack, I wouldn't get to continue this dream without them."
The Kentuckiana Ford Dealers 200 is a 2 day, double header including the Great American Stocks racing before the Kentuckiana Ford 200 on Sunday April 30th. Follow the Moose throughout the weekends hour and a half practice session and qualifying on Saturday, with the green flag flying at 1:15 PM CST. Live timing and scoring for practice, qualifying and the race will be on ARCAracing.com. The race will be broadcast tape delayed on MAV TV on May 20th 8PM CST. Also, you can follow us on social media, Twitter (@DKLOKRacing), Instagram (Thomas Praytor), and Facebook (DK-LOK Racing) for live trackside updates from our PR team.
MEET THE MOOSE: Fans will get to meet The Moose Sunday, on the front stretch from 11:30 to 12:30 prior to the race.
PRIMARY SPONSOR: DK-LOK Fittings & Valves www.dklokusa.com.
ASSOCIATE SPONSORS: G-Force, Nudraulix, REALTOR, Rettigs Auto Body, APS Automotive Painters Supply, Dueitt's Battery Supply, Airgas, John Thompson & Associates, Judy's Place, Greer's Food Market, Campbell, Duke & Campbell, Omni Fitness, Golden Flake, Mobile County Sheriff's Office, Praytor Realty
CAR: Roush Chassis #461,"Black Betty"-Black Betty has been the team's short track stalwart and was one the 2nd car the team purchased. Praytor drove the Moose to his career best ARCA finish of 7th at the ARCA Mobile 200. Praytor's DK-LOK Ford is powered by Roush Yates Ford Motors.
WHAT TO LOOK FOR THIS WEEKEND: The fans in the stands are in for a ride as Salem is like no other track in the circuit. The name of the game this week is going to be tire conservation. You will hear our spotter Tommy Praytor say "Conserve, Conserve, Conserve" a hundred times before the race is complete. Although, as the race dwindles down, all bets are off for Victory Lane!
The SALEM SPEEDWAY: .555 Mile Paved Oval
Praytor Takes Over Active ARCA Ironman Status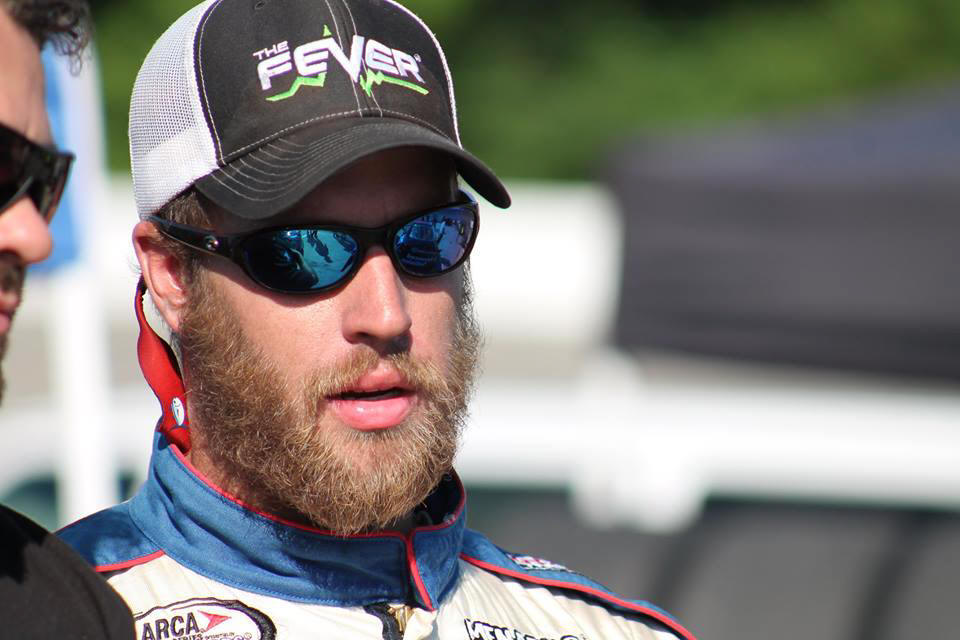 With his 83rd consecutive start in the Music City 200 Thomas "Moose" Praytor takes over as the ARCA Series Active Ironman. Currently Praytor has more consecutive starts in ARCA than any other active driver.
The Ironman in any sport is usually reserved for throwback style players, Footballs, Jim Marshall, Baseballs Cal Ripken and drivers like Frank Kimmel, Ricky Rudd, Terry Labonte and Mobile's Rick Crawford, the long time Ironman of the NASCAR Craftsman Truck Series. Not only do they play hard, they worked hard in the shop and that work ethic keeps them coming to the racetrack, when others would call it a day.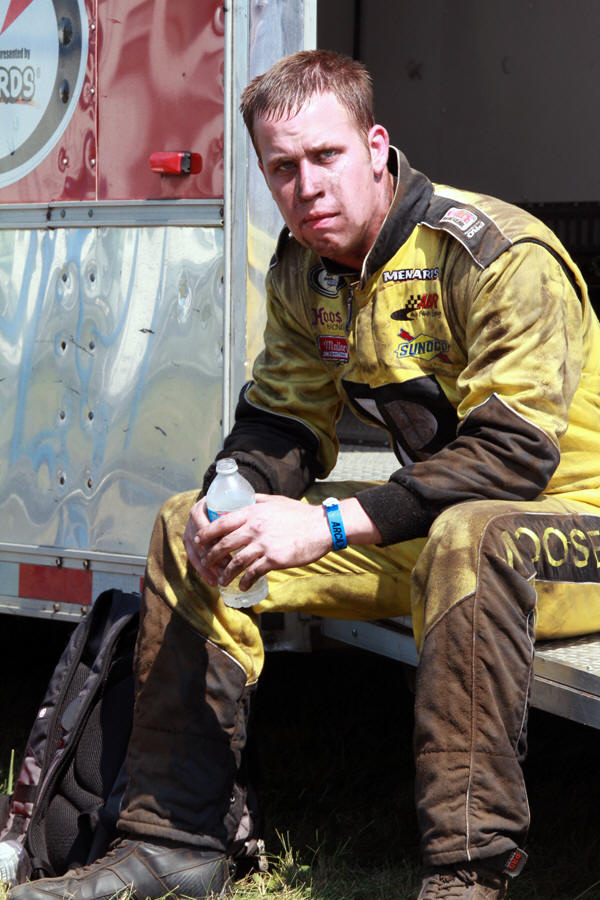 Rudd taped his eyelids open to race, on 2 occasions Marshall walked out of the hospital to join his team on game day, Crawford left the infield Care Center to win at Daytona and Kimmel made 386 consecutive starts on his way to 10 Championships. Praytor has already experienced his share of tough starts, kidney stones, carbon monoxide poisoning, head dingers, torn muscles and some bones & joints that will tell him the weather forecast for years to come. But the Moose keeps on going.
"The idea that I'm still in the Series, still coming to the track every week is just incredible. We were only supposed to make 3 starts five years ago and well we're still going. I don't really think about being the Ironman, I just think about how fortunate I am to have a ride and nothing is going to keep me out of it."
Climbing into a racecar was not always been a given, in 2003, while racing at Sunny South Raceway, Praytor hit the wall so hard his seat assembly came loose from the car allowing his head to hit the wall on impact.
Lifeflighted from the track, Praytor was in a coma for a week, survival first, racing would have to come second. Once on the mend, the Doctors prescribed one year of no racing or football. Praytor spent the year rehabbing his body and rebuilding his wrecked race car while spotting for his Dad. At the end of the year, the Doctors cleared the Moose to return to action but Mom was a much tougher sell. Eventually she came around and Praytor was back in the saddle.
"I never have remembered the wreck but I'll never forget that year on the sidelines. I think the year off really made me appreciate the opportunities you have. I look at each start as special, I know there are thousands of other guys who would kill for my spot and I'm not giving up my seat to anybody."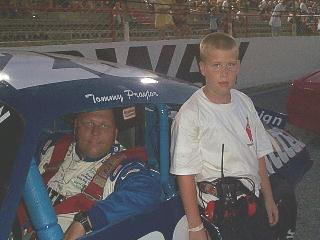 While the laps continue to pile up (Over 10,000) Praytor and his family owned Max Force Racing are focused on not just starting but improving. Last season Praytor turned in his best season on tour finishing 5th in the Championship Standings. And like the song says "with a little help from my friends."
"There are so many people that have contributed to me being here. Belmont and Venturini gave me a shot, Hixson really got me going and every major owner in the series has contributed to me staying here. The support we receive in Mobile is just incredible, day and night friends come by the shop, pitch in and help us get our cars prepared for the track. We couldn't do it without all of our friends."
Most young drivers look at the ARCA Series as a stepping stone to bigger rides, Praytor has a unique perspective: "If it all ended tomorrow I've done more than I ever dreamed I would get to do as a race car driver. Daytona, Talladega, Pocono those were fantasy tracks on my computer not reality for a Super Stock driver from Mobile International Speedway. We still have so much more we want to accomplish."
Consecutive start #84 is the Kentuckiana Ford Dealers 200 at Salem Speedway on April 30th.
Praytor Hits Sour Note in Music City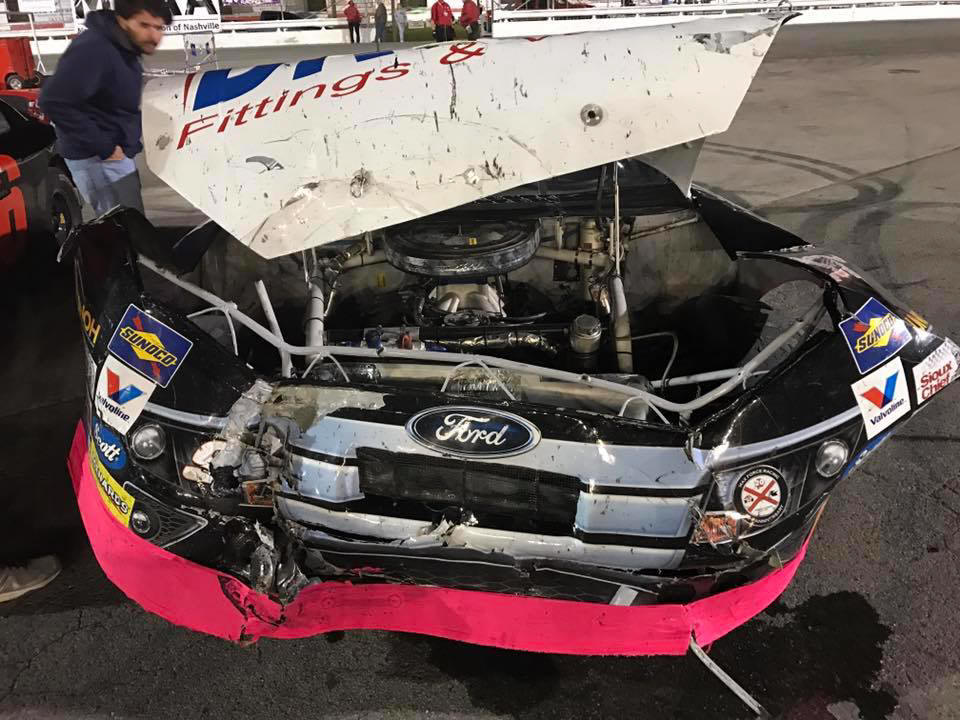 The Music City 200 presented by Azure Foundation has become one of Thomas "Moose" Praytor's favorite on the ARCA Tour. Classic short track action mixed with a big field of high octane competitors make for great racing. The 2017 installment was anything but to the DK-LOK team and worse to the Chassis chosen for the assignment, RK-500.
The day began in usual fashion with the team working hard on finding the right balance on the DK-LOK Ford. With a long list of changes during the hour and a half practice session the Moose qualified 18th placing the legacy motor ahead of some of the new Ilmor engines.
With the drop of the green flag the Moose and his DK-LOK Ford resembled a salmon swimming up stream versus a man on the move. In the first few laps of tight racing Praytor picked off the cars in front of him but he was in the middle of a pack moving forward and one of the cars took off his right rear quarter panel puncturing the tire.
A small hole turned into big handling problems and the Moose started to fall back, the hole gave way to a blow out and he was in for wild sideways ride before getting under control. The spotter had him stay on track looking for a caution that finally came costing the team valuable track position early.
Three laps down Praytor started racing hard to put the DK-LOK Ford in position for the lucky dog. Three laps turned to two, two to one and the caution needed to put the team on the lead lap ended the night. Two car got together off of turn 4 blocking the track in front of Praytor and the Fusion T-Bone one of the cars destroying the radiator in Praytor's Ford.
"We had a decent DK-LOK Ford just a bad night on the race track. The guys worked hard in practice and really improved our race car and we had a solid qualifying effort taking out some of the Ilmors. It's amazing how much this track has changed since last year. I don't think we have the balance where we need it yet on our cars and we'll keep working on it. Looks like we'll bring back Black Betty to Salem, another great short track car. We had a lot of local support up from Alabama this weekend really appreciate everyone being there."
A few weeks off before the Kentuckiana Ford Dealers 200 at Salem Speedway April 30th on MAVTV.
Praytor Ready For First Short Track of 2017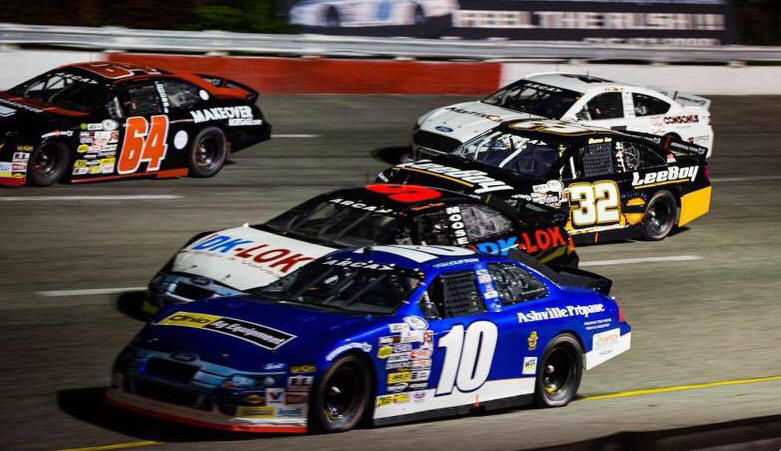 Music City 200 presented by Azure Foundation at the NASHVILLE FAIRGROUNDS SPEEDWAY: "I really like short track racing and Nashville is a big half mile track that is a lot of fun to race on. Nashville is a good track for us and we've been working hard on our short track program, we should get a good indication of what we have this weekend." In addition to racing in Nashville, Thomas "Moose" Praytor has made the Music City a regular stop including trips to the CMA Awards, American Country Countdown Awards including some favorite honky tonks in Downtown Nashville. "Nashville is one of the places you wish was like a 3 day show so you could go Downtown and enjoy some of what the City has to offer. That's why I like coming back here so much when we're not racing."
The Music City 200 PRESENTED BY Azure Foundation is a 1 day event double header including an ARCA CRA/Southern Super Series race before the Music City 200 on Saturday April 8th. The Music City 200 will begin at 8:00 PM CST. Live timing and scoring for practice, qualifying and the race will be on ARCAracing.com. The race will be broadcast live on MAV TV.
PRIMARY SPONSOR: DK-LOK Fittings & Valves www.dklokusa.com.
ASSOCIATE SPONSORS: G-Force, Nudraulix, REALTOR, Rettigs Auto Body, APS Automotive Painters Supply, Dueitt's Battery Supply, Airgas, John Thompson & Associates, Judy's Place, Greer's Food Market, Campbell, Duke & Campbell, Omni Fitness, Golden Flake, Mobile County Sheriff's Office, Praytor Realty
CAR: Roush Chassis #500-Chassis 500 is the Moose's favorite short track car and was run at all the short track races, road course and dirt races in 2016. Praytor's DK-LOK Ford is powered by Roush Yates Ford Motors.
WHAT TO LOOK FOR THIS WEEKEND: Nashville is the first short track on the 2017 calendar and there are a lot of young drivers too young to race at Daytona making their ARCA debut-hang on! Opened in 1904 the old track in the middle of the State Fair Grounds is steeped in racing history with winners picking up a Nashville guitar in Victory Lane.
NASHVILLE FAIRGROUNDS SPEEDWAY: .596 Mile Oval,Banking-18 Degrees in Corners, Straights 3 degrees
Praytor Trains With Alabama State Troopers
In most cases when you combine a race car driver and Alabama State Troopers for a week, the outcome usually isn't too good for the driver. This time Thomas "Moose" Praytor finally earned some paperwork from the Alabama Department of Public Safety that wasn't a ticket.
Professor Praytor added CDL Examiner to his non racing resume and now has the same power as an Alabama State Trooper to administer the CDL driver's exam.
"The last few semesters teaching at Bishop State has been really rewarding. Every one of our students has been employed within a week of completing our course", said Praytor. "Bishop State gave me the opportunity to go to school with the Troopers and that was a whole new learning experience!"
With a hole in the ARCA schedule after Daytona Praytor has enjoyed the time away from the shop but is ready to get back behind the wheel.
"Nashville is a good track for us and we've been working really hard on our short track cars in the off season and we're looking forward to the Fairgrounds."
The Music City 200 presented by the Azure Foundation is Saturday, April the 8th at the Fairgrounds Speedway in Nashville. Practice is 1:15 to 2:45 with General Tire Pole Qualifying at 4:15. The green flag is slated to wave at 8:00PM CST. Live timing and scoring of practice and qualifying will be on www.arcaracing.com. The Music City 200 will be the first live broadcast on MAVTV. With the addition of MAVTV all 20 ARCA Series races will be televised in 2017.
Daytona Ends In A Cloud of Smoke,
Dirt & Disappointment for Praytor
Max Force Racing began its 20th Season of competition at the World Center of Speed in the Lucas Oil Complete Engine Treatment 200 driven by General Tire on Saturday.
After a career season in 2016 Thomas "Moose" Praytor and his Max Force Team rolled in to Daytona looking to capitalize on the momentum they created last season.
Technical inspection and practice went as planned with the Moose clocking the 8th fastest time in practice. A disorganized group in group qualifying had Praytor rolling off a disappointing 23rd.
With the drop of the green flag the Moose and spotter Tab Boyd, on loan from Joey Logano, quickly worked their DK-LOK Ford from 23rd up to 12th.
A caution on lap 20 gave the team its first big decision of the day, come in or stay out. The fuel calculations said the team would have to come in again if they brought the DK-LOK Ford to pit road and the team decided to keep Praytor on the track.
The decision moved the Moose up to 3rd behind the 78 and 98 of Mason Mitchell Motorsports. Back under green the trio was joined by Matt Tift's, Kyle Busch Motorsports machine and the four cars quickly broke away from the field. (Pic above)
The four cars spent the next 30 laps nose to tail pacing the field until a timely caution flag on lap 50 let the DK-LOK Ford come to pit road for badly needed fuel.
With just a few cars using the same fuel strategy the team decided to pack the Ford full of fuel versus just enough to get them to the end of the race. The weight of the extra fuel would help pull the rear spoiler down out of the air giving the team and extra advantage back on the track.
Back under green Praytor had to be patient for the strategy to play out, the other cars would have to pit again before the end of the race moving the Moose, 78, 98 and 18 back to the front.
On lap 65 the DK-LOK Ford was drafting in the outside lane and the inside lane had a bump draft go wrong sending the 15 of Lelani Munter into the Moose's left side door and the DK-LOK spinning and bouncing off other cars in to the infield grass in a plume of smoke, dirt and flying grass.
Praytor's DK-LOK Ford was battered and bruised but it wouldn't fire up, getting the Ford a ride back to the garage on a wrecker and the Moose a trip to the infield care center.
The team quickly went to work on the machine and had it ready to return to action but didn't have a driver. Praytor's CO2 levels were too high in the infield care center and they had him held up until those levels returned to normal.
Ed Pompa was involved in the same wreck but his Clemson car was done and the team recruited Pompa to finish the race. Pompa strapped in and just as the car was ready to return to the race the final caution flag flew and the race was called after a long red flag period ending this year's Daytona race early.
"Our DK-LOK Team had a solid Speedweek in Daytona. We had speed all weekend and we showed we can run up front and compete with the biggest teams in the sport," said Praytor. "We can't do what we do without all the people in Mobile who support our race team. We had a record number of tire sponsors for Daytona this year, just incredible. Our all-volunteer UNOH crew had a good week and did a great job on our stop and getting our Ford patched back up to go back out. I appreciate Ed Pompa climbing in for me. Congratulations to our spotter Tab Boyd, he and Joey Logano won the Clash on Sunday, he does an awesome job. We have some work to do before Talladega but we're really looking forward to putting on a show in front of our home state fans."
Next up, Nashville on April 8th.
MAVTV Signs ARCA Racing Series to Multi-Year Broadcast Agreement

The Automobile Racing Club of America (ARCA) and MAVTV announced a new multi-year broadcast rights agreement for the ARCA Racing Series presented by Menards under which racing events will be televised on MAVTV during the 2017 through 2019 racing seasons.
Ten races will be telecast on MAVTV in 2017, with ten races having already been announced for broadcast on Fox Sports 1. The pairing of MAVTV and Fox will put all Twenty ARCA races on National Television in 2017.
"MAVTV is working hard to become the home for motorsports and I think they will make a great outlet for ARCA Racing," said Thomas "Moose" Praytor. "The combination of Fox and MAVTV means our fans will get to see every heart pounding lap from places like Salem, Winchester and Elko plus the speed of Pocono, Chicago and Talladega."
The first of the three-year agreement, coverage begins Saturday night, April 8 with the first Live broadcast from Fairgrounds Speedway in Nashville, Tennessee. In addition to Nashville, races from Elko Speedway in Elko, Minn., Madison International Speedway in Wis. and the Illinois State Fairgrounds will also air Live on MAVTV.
"MAVTV continues its long-term commitment to motorsports," said Bob Patison, president of MAVTV. "We see the ARCA Racing Series presented by Menards as a premier property on our network, and are happy to begin our ARCA relationship with this new contract."
In addition to the Live events, MAVTV will provide coverage from an additional 6 ARCA Racing Series events, including delayed broadcast coverage from the 4-mile Road America road course in Elkhart Lake, Wis., plus great short track action from Iowa Speedway in Newton, Iowa, Winchester Speedway in Ind., the dirt mile at DuQuoin Fairgrounds in Southern Ill. and both Salem Speedway events in Ind.
MAVTV can be found in the US on major cable providers, including Cablevision, Charter Communications, GCI in Alaska, select cable systems within the Caribbean Co-op, Xfinity, Time Warner Cable, AT&T U-verse and DirecTV (214). MAVTV is currently available in 62 million homes.
"ARCA has a well-established history of investing in long-term relationships, and that certainly holds true in the case of our television network partnerships," said ARCA President Ron Drager. "We're very pleased that MAVTV will become a broadcast partner, and are proud to be a part of their programming mix. As we build our plan for the future of the series, we're especially enthused to make this major, multi-year announcement. This mutual commitment between ARCA and MAVTV provides our series a high quality television platform available to deliver a tremendous value for viewers, race teams and sponsors."
Race Day in Daytona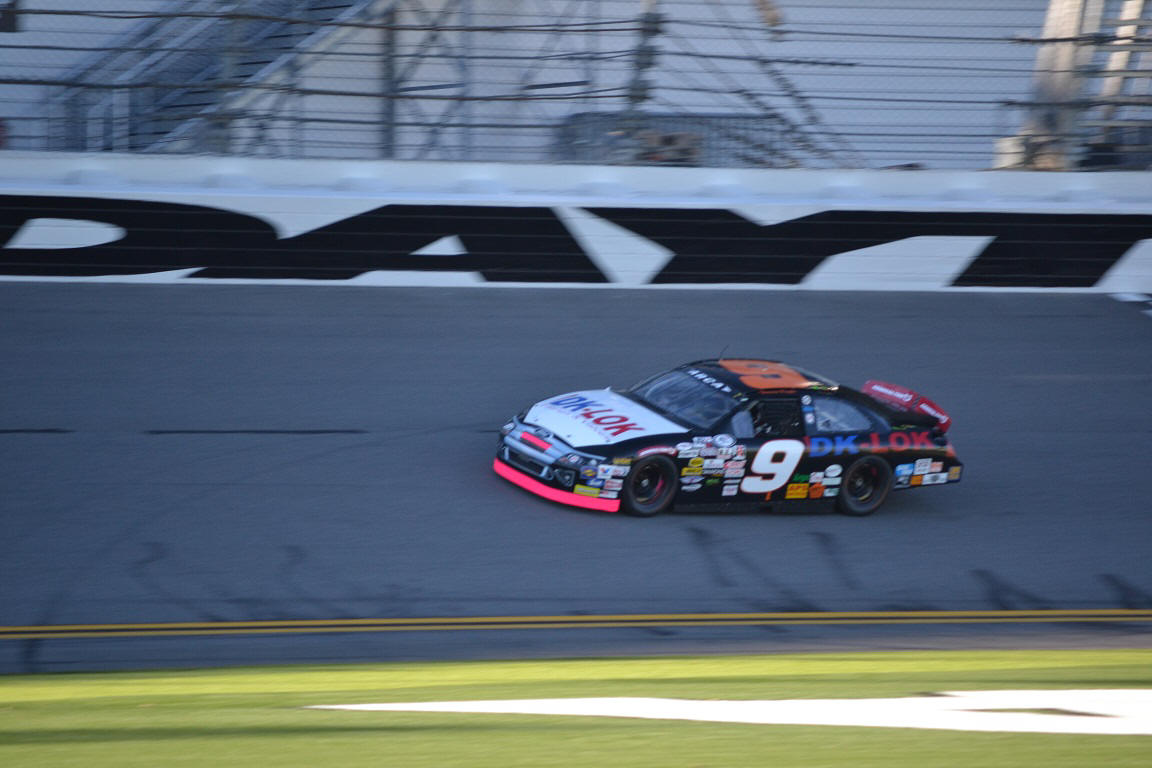 A new racing season begins today at Daytona International Speedway for the Moose, Thomas Praytor and his Mobile based DK-LOK Race team. Praytor rolls off 23rd after a disjointed group qualifying effort left some of the best cars in the field in the middle of the pack.
"We have a really fast race car and qualifying yesterday went south from the time our group rolled off pit road. We were all disjointed yesterday but today we will all be pressing to the front the together," said Praytor. "we have a huge amount of local support to start the year and its part of why we have such great equipment here."
Local Sponsors for Daytona 2017:
Wade Distributors
Greer's
Sirius Technical Services
Judy's Place
John Thompson and Associates
Ainsworth Racing
Lewis Precision CNC
Clear Choice Technology
MH Electrical
Our Local Sponsors that ride with us all year:
Automotive Paint & Supply
Airgas
Omni Fitness
Dueitts Battery Supply
The Fever Brand


The Max Force Race Team will begin its 20th year of competition starting behind 8 time Daytona Champion Bobby Gerhardt.
"I'd like to be starting up front with Mr. Bobby but we both know we have fast cars and we can work our way up there, we'll be pushing as hard as we can."
Lucas Oil Complete Engine Treatment 200 driven by General Tire gets underway Saturday afternoon at 3:00 PM CST with live coverage on Fox Sports 1 and live timing and scoring on ArcaRacing.com. The team will live tweet and facebook all day from dklockracing-join the conversation!
Praytor Rumbles to Eighth at Daytona Practice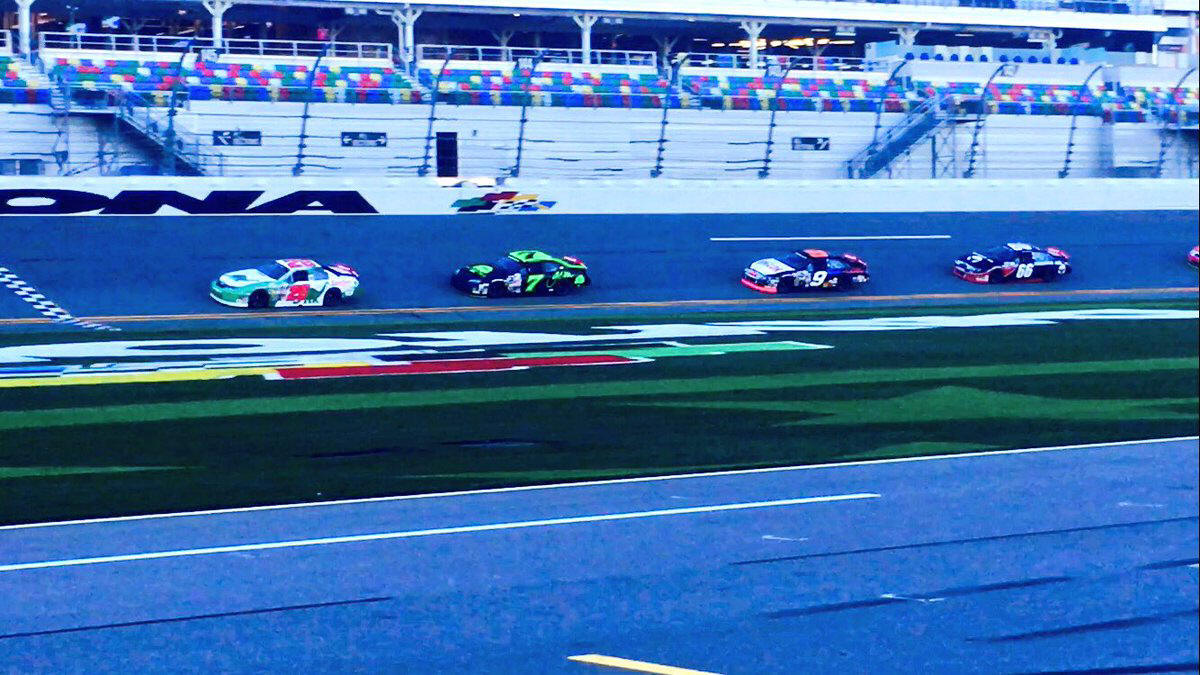 Coming off a career season in 2016 Thomas "Moose" Praytor and his DK-LOK team fired the first shot of the 2017 season posting an 8th place spot in practice for the Lucas Oil Complete Engine Treatment 200 driven by General Tire at Daytona during Thursdays practice.
"Solid day for our team, lot of energy has gone in to this effort and our DK-LOK Ford really performed well in the draft," said Praytor. "Having Tab (Boyd) on the roof again is awesome, his experience is incredible. We'll see what we can get today in qualifying."
Eighth on the speed chart put the Mobile, Alabama race team in good company working towards Saturday's season opener. Team Venturini, last year's Championship team, Kyle Bush team and 8 time Daytona Champion Bobby Gerhardt were the only teams to record a faster time at the World Center of Speed.
The team is so confident in their DK-LOK Ford they skipped the morning practice to prepare for this afternoons qualifying session. Menards Group Pole Qualifying is at 2:30CST with live timing and scoring on ArcaRacing.com.
The 2017 season will get underway Saturday afternoon at 3:00 PM CST with live coverage on Fox Sports 1 and live timing and scoring on ArcaRacing.com.
Sponsor-GoodBookey Featured in Forbes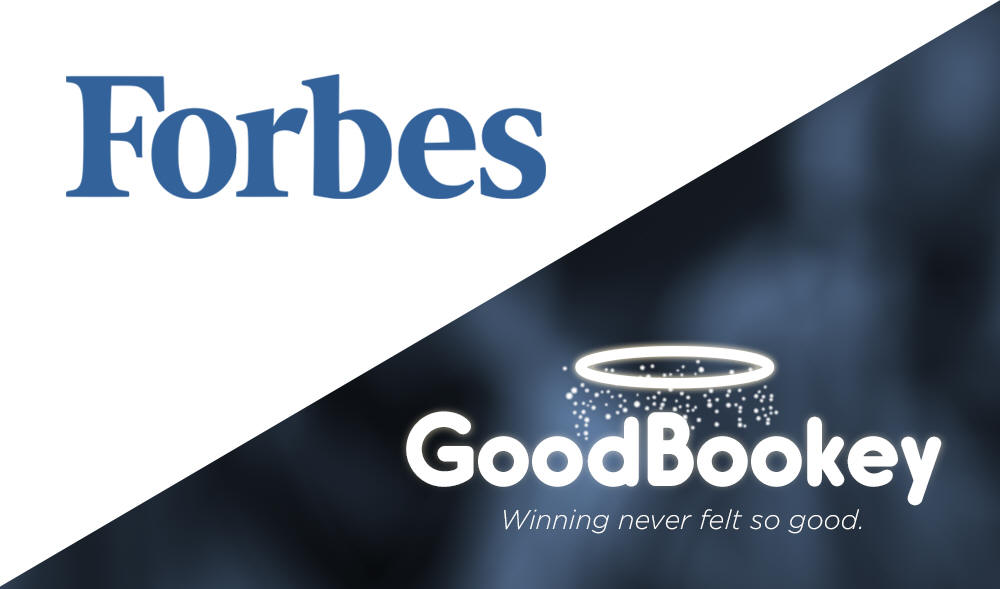 GoodBookey America's online charitable gaming site and sponsor of the Thomas "Moose" Praytor's ARCA car is featured in Forbes. Follow link below for full article:
http://www.forbes.com/sites/matthunckler/2017/01/19/like-betting-on-sports-this-app-turns-lost-bets-into-charitable-donations/#2b79519b5d52
Watch GoodBookey President Tony Pease and Operations Officer Sarah Deasy give a short presentation on GoodBookey using their involvement with racing as part of their presentation.
"Congratulations to the entire GoodBookey team on being recognized by Forbes. We had a lot of fun with GoodBookey and The Chive Charites on the car in Kentucky and Kansas," said Praytor. "They are making a difference in a fun way that everyone can be involved with. I'm taking all bets against the Patriots, download the app and put your money up!"
Team Praytor Starts 20th Season With Testing At Daytona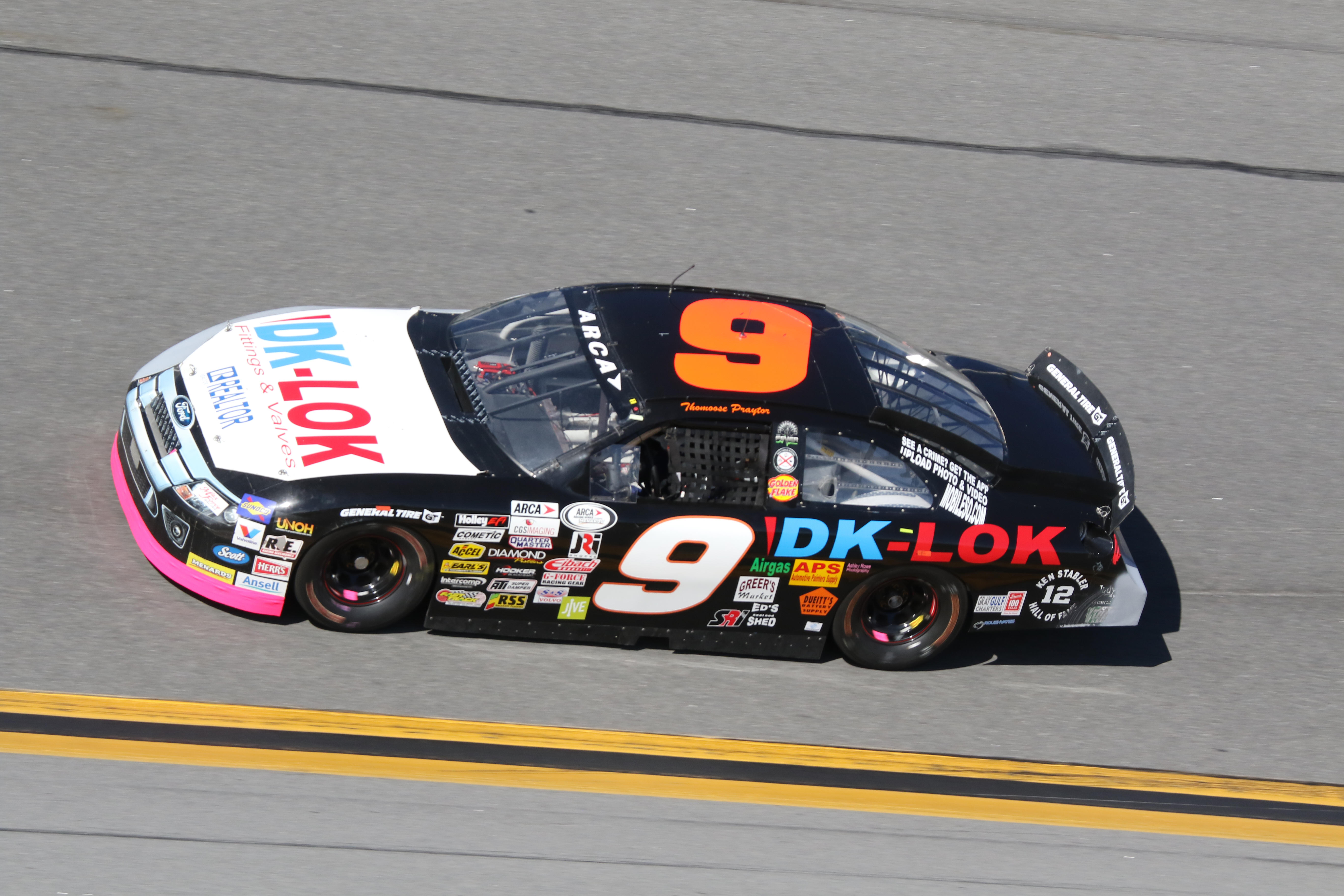 After a mad scramble for a test motor, Thomas "Moose" Praytor and his Mobile based Max Force Race team spent some long days with sleepless nights preparing their DK-LOK Ford for testing in Daytona.
"We got back late Sunday night with the motor and went to work on installing first thing Monday morning. We felt like we had until Thursday night at 9 to finish in order to make testing at 7AM on Friday, we closed the door on the hauler at 7:30," said Praytor. "We had lots of great help and couldn't have done it without, Dink (Stevens), Mark (Hutchinson), Brandon (Stokes), my Mom, my Sister everybody pitched in."
While all Ilmor Motors are all made the same way they are not wired or plumbed the same way and all the hook ups in the car had to be changed out to match the motor. "Tony (Blanchard) was a big help, we took a lot of pics and texted back and forth, he really kept us on the right path."
A long nights drive across the panhandle of Florida to Daytona Beach and hauler arrived in time for an hours sleep before registration opened.
With the DK-LOK Ford finally in the garage, a team of Ilmor engineers started to go over the motor. "The Ilmor guys did a great job all weekend. They were constantly going over the motor after each run."
The team battled the usual gremlins on the first few runs, tire rub, leaking oil line and after a couple of single car runs the Moose was turned lose, ready to draft.
"We've spent a lot of time and money on this chassis and it really shows it in the draft. Our DK-LOK Ford didn't miss a beat from Talladega and it was really fun to drive."
After a couple of draft packs, Praytor parked his Ford for the afternoon and the team prepared for a complete tech on Saturday morning. The DK-LOK Ford timed in at 185.770 MPH good enough to be 23rd out of 62 competitors.
Testing in Daytona allows the teams to have the cars teched by ARCA officials to make sure their car and components are ready to go when they return in February for the Lucas Oil Complete Treatment 200 driven by General Tire.
The team spent Saturday morning taking the car apart for tech, putting it back together followed by Praytor made a leisurely stroll around the 2.5 mile World Center of Speed at 180 MPH to make sure it was all back together properly.
"We actually loaded up early which is truly unusual for our race team. Our UNOH guys had a great weekend, the car performed like we wanted and can't say enough about the guys from Ilmor they really worked hard to get all we could get out of the motor and it paid off."
The countdown for the start of the 2017 ARCA Racing Series presented by Menards season in now underway for the Lucas Oil Complete Treatment 200 driven by General Tire on February 18th.
Sarah Cornett-Ching Saves Moose Again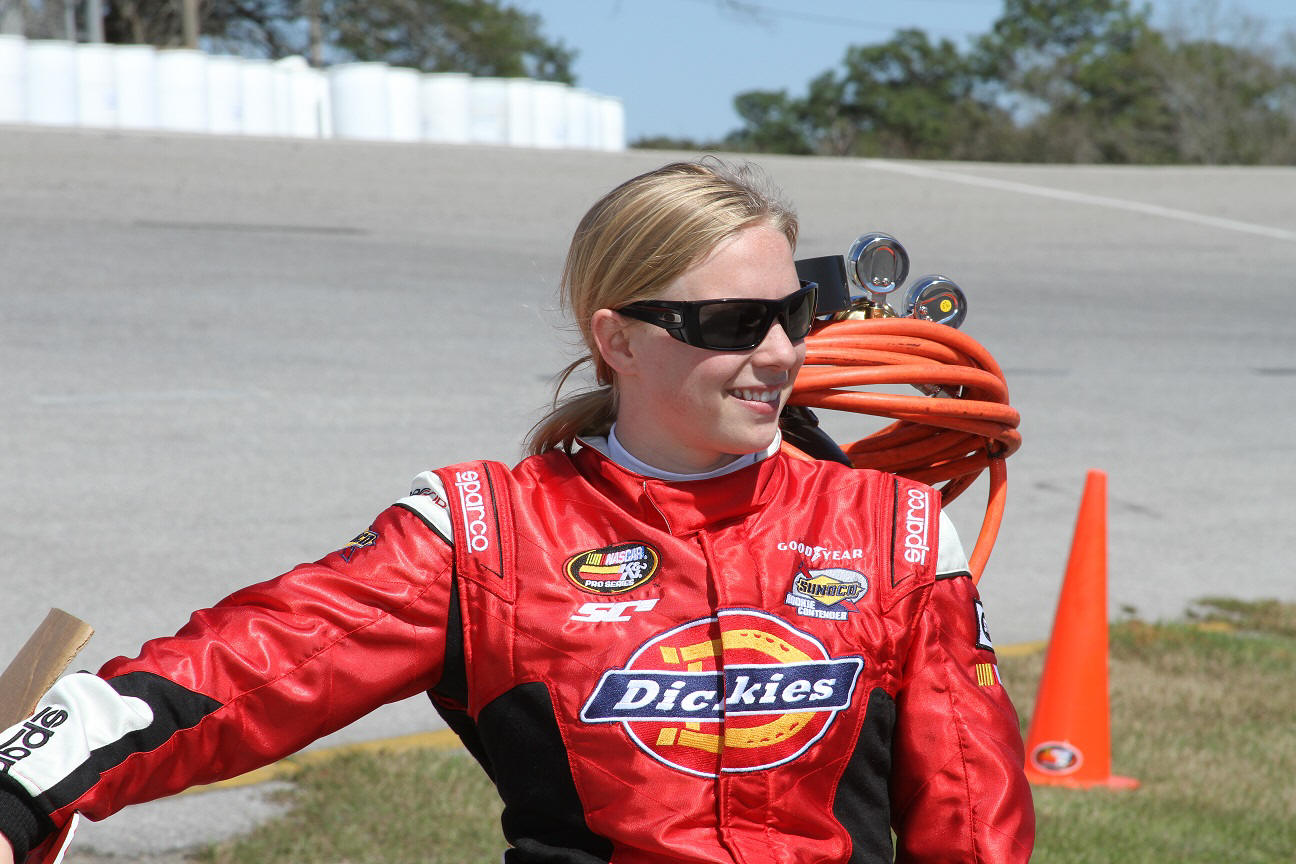 As the days tick down to the test in Daytona for the Lucas Oil Complete Treatment 200 driven by General Tire, Thomas "Moose" Praytor found himself without his primary motor and it looked like he could be watching the test from Mobile.
Enter Sarah Cornett-Ching with her Dickies Race 101 Team and just like Pocono a couple of years ago, Sarah came to the rescue loaning Praytor a motor for the test.
"We were cutting it pretty close with our primary engine not being ready but Sarah, Tony and the guys at Race 101 saved us again," said Praytor. "It's one of the cool things about our Series, having competitors helping each other."
With the snow melting away Praytor made a quick trip to the Race 101 Shop in Denver, North Carolina picked up a motor and the team is hustling to get it installed and ready for the test this weekend.
"Our teams have always been close going back to when we were working out of the same team. Thomas and his guys have always been there to help us when we need it and it was great to be able to help him," said Sarah Cornett-Ching.
Testing for the Lucas Oil Complete Treatment 200 driven by General Tire is slated for Friday and Saturday at the World Center of Speed, Daytona International Speedway. Live timing and scoring will be available at arcaracing.com.