Click Here for Copy of Fan Guide
Thomas ARCA Stats Racing Reference

Tommy Praytor Bio

Racing for
Ronald McDonald House

Sponsors
Crew
Showcar
Media
2005 Hawaiian International Billfish Tournament

Thomas Praytor
News & Photo's
2021 Photo Gallery
2020 Photo Gallery
2019 Photo Gallery
2018 Photo Gallery
2017 Photo Gallery
2016 Photo Gallery
2015 Photo Gallery
2014 Photo Gallery
2013 Photo Gallery
2012 Photo Gallery
2011 Photo Gallery
2010 Photo Gallery
2009 Photo Gallery
2008 Photo Gallery
2007 Photo Gallery
2006 Photo Gallery
2005 Photo Gallery
2004 Photo Gallery
2003 Photo Gallery
2001& 2002 Photo
2000 Photo Gallery
1999 Photo Gallery
Tommy Praytor Photo's
2012 Photo Gallery
2011 Photo Gallery
2009 Photo Gallery
2008 Photo Gallery
2007 Photo Gallery
2006 Photo Gallery
2005 Photo Gallery
2004 Photo Gallery
2003 Photo Gallery
2002 Photo Gallery
2001 Photo Gallery
2000 Photo Gallery
1999 Photo Gallery
1998 Photo Gallery

Cup Sponsorship

Tribute Pages
Jamie C. Praytor
H.T. "Tommy" Praytor
Gene Tapia
Links to Alabama Tracks
Montgomery Speedway
South Ala Speedway (Opp)
Mobile Intl Speedway
Pensacola Speedway
Sunny South Raceway
TOMMY RACE RECAPS 2011
FATBOY ON THE FRONT ROW AT 5 FLAGS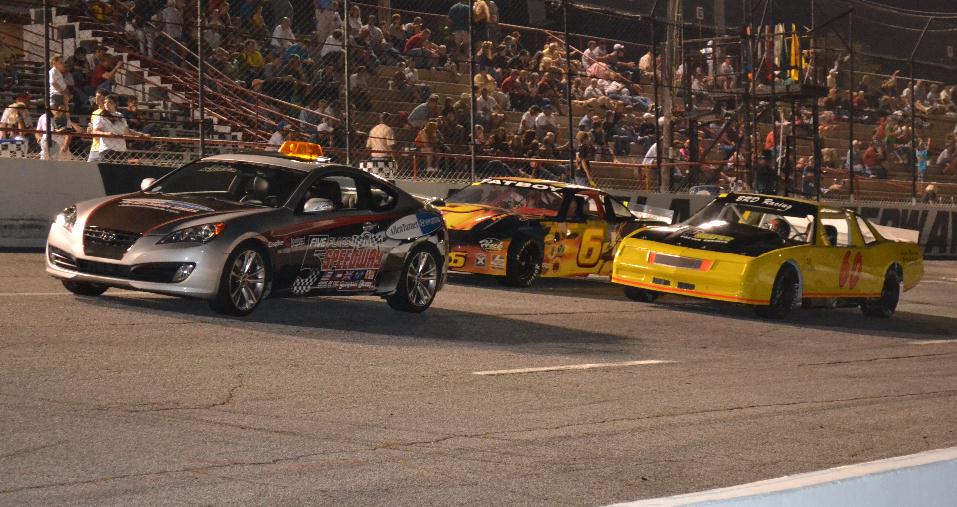 Tommy Praytor Pensacola 5 Flags Speedway 5-20-11: After a 2 year lay off and having to wait a week for a rain delay Fatboy finally got to take the Final Destination Super Stock for another ride. "I said it was all about having fun and then as fast as you can hit the button on a stop watch it wasn't anymore," said Tommy "Reversing roles with Thomas was fun for both of us and for me really brought back some cool memories of Thomas spotting for me when he was 10. The Moose worked his butt of and gave me a great car and I probably left a at least 2 tenths on the table in qualifying." The Fatman qualified 9th and then the dreaded dice roll put him on the front row. Starting 9th was fun, the front row was serious business. "My only shot was to get a good jump on the start and try to clear the pole sitter. I got a great start, maybe a little too good and race director Dan Spence made us redo the restart. Well everyone had seen my 1 time trick and they were all waiting on me the second time. Into turn 1 Thomas was screaming 3 wide your at the top. I knew it was going to be ugly." The pole sitter bounced off of the Max Force machine 3 or 4 times and then the Fatman was up in the marbles falling backwards. The Moose found Tommy a spot to get down in around 8th. A few laps later they were bouncing off Tommy and a pack of cars wrecked in turn 1. The Fatman got his Final Destination machine stopped without hitting anything but the race director determined Tommy was involved in the incident and now he would take up the tail end of the 16 car field. "I try to make sure Thomas keeps his cool on the radio after a tough deal and I didn't set a very good example for him." At the tail end the Fatman started to knock some of the rust off and started his march to the front. "After the first couple of laps I realized the group I was with was crazy and I joined the crowd. On my back up I think I hit just about everything but the lottery." With 4 to go Tommy was up to 6th and was looking for a top 5. The final caution put Tommy on the outside lane for the final restart and the group he just passed was waiting for him. Hung out on the outside lane Tommy was shuffled back to 9th. In the final laps he was able to pick a couple back off and finished 7th. "I really had a good time, I absolutely sucked but I had a good time. Even after all these years we had a top 5 car and I just didn't bring home the bacon. Thomas did a great job spotting for me. Now he knows how it feels to tell the driver the same thing over and over again and the driver not listen to you. Last week Vince Vaughn was in the stands to watch me race this week we had the "Snake", Ken Stabler with us. The big stars come out when I drive! Seriously, the stars will be out this weekend with a huge Super Late Model double header on the coast. There are whole bunch of Super Stock drivers that will be glad I'm back on the spotters stand for the Moose."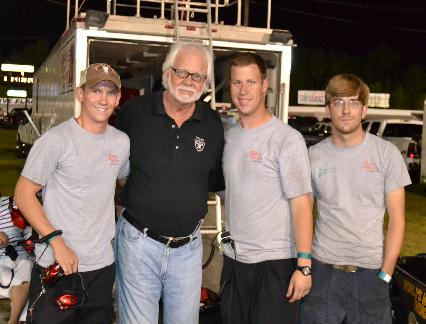 Picture: Top-Tommy on the front row at 5 Flags. The Moose Ben and Andrew with Ken Stabler. Lots of pics being posted on Tommy's Facebook page.

For live coverage of the Memorial Day Weekend Super Late Model races:

www.Speed51.com

For track coverage:

www.5flagsspeedway.com & www.mobilespeedway.net

THE FATMAN COMETH-TOMMY RACING AT 5 FLAGS

Tommy "Fatboy" Praytor Pensacola 5-7-11: After a 2 year layoff Tommy returns to action in Pensacola's 5 Flags Speedway Super Stock 50 Showdown on Friday night. Known as "Fatboy" during his heyday as a driver, (Note-the boy part of the nickname is now a state of mind only) Tommy spent the last 2 years on top of the toolbox as crew chief for the Moose. "A lot of people thought I had retired, I think even more people hoped I had retired but I don't see that happening any time soon. I've had my time as the primary driver for our Max Force team and loved every minute of it. It's the Moose's time now and I'm enjoying every minute of his success. It works out this Friday night that we have a hole in Thomas's schedule and the Super Stocks are racing at Pensacola," said Tommy. Tommy will be behind the wheel of what used to be his Alltel Pontiac that became even more famous in the filming of Warner Brothers Final Destination 4. The car is straight from the movie set complete with the wrap that was installed for famed Hollywood stuntman Buddy Joe Hooker. Hooker was the stuntman Burt Reynolds based his stuntman movie "Hooper" on. "As long as the car doesn't end up like it's stunt double in the movie we're going to have a good night. The Super Stock cars have really come a long way in the last couple of years and our car is a little old on the technology side but we're going to have a good time. I'm saying Friday night is all about having a good time but I know when the helmet goes on I'll feel differently."

Friday night's Super Stock race is the start of a double-header weekend with the Moose thundering back into action on Saturday night at Mobile International Speedway in round 3 of the Midwest Cooling Towers Pro-Late Model Division.

www.5flagsspeedway.com www.mobilespeedway.net

Picture: Left, Super Stock with stuntman Buddy Joe Hooker behind the wheel during filming for Final Destination 4. Right, Buddy the Super Stock's Hollywood made stunt double flipping down the front stretch at Mobile with Mic Rodgers, Mel Gibson stuntman, inside.