Whats Trending Over the Weekend? Moose #2 on Al.com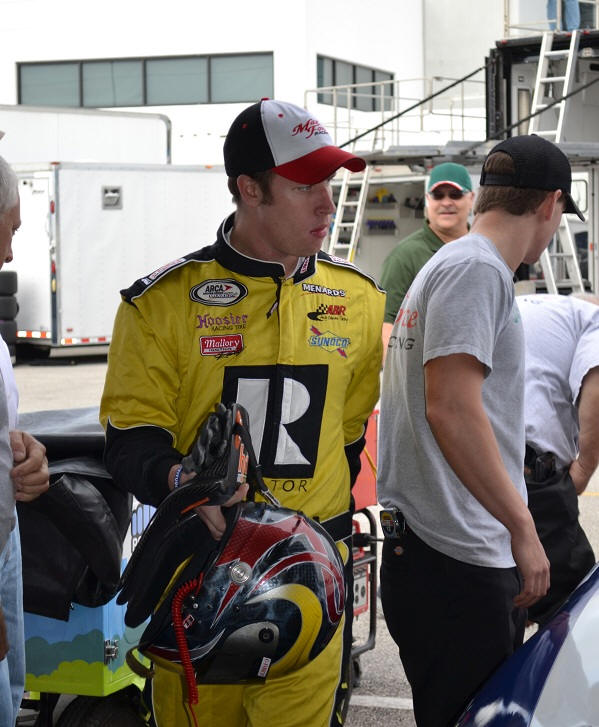 While the Moose was making noise at Daytona, the story of the Moose and his Senior Bowl sponsored Mobile, Alabama based race team was one of the top trending local stories on al.com over the weekend. "It's Daytona, we're living a dream that every racer that straps on a helmet has. Add to it we're a home grown operation and even people who don't follow racing are watching," said the Moose. "Whether it's racing, football, baseball you name it, people from Mobile love to pull for a Mobile guy."
al.com
Traffic stop shooting
:
A man from the Pinegrove Community in Baldwin County was shot by Baldwin County deputies and Bay Minette police officers at a traffic stop Sunday as he reached for a shotgun. Authorities had been looking for the man following a domestic dispute reported on Saturday.
:
Mobile native Thomas "Moose" Praytor turned a lap of 182.537 mph at an ARCA Racing Series testing this weekend at the Daytona International Speedway. That time was good enough to be the eighth-fastest lap for the weekend.


http://blog.al.com/live/2012/12/heres_whats_trending_sandy_roc.html
9 Links Created this weekend on al.com for Thomas testing in Daytona
http://search.al.com/thomas+praytor?date_range=d6
Praytor and Mobile Team Solid in Daytona Testing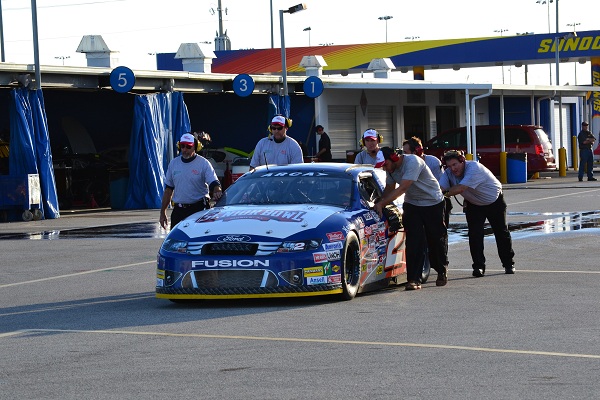 When thinking of racing at Daytona, names like Hendrick, Childress and Roush come to mind but Thomas "Moose" Praytor and his Mobile based Max Force Racing team are working on establishing a Port City connection. Praytor and his team made their first outing in the ARCA Series this weekend participating in the 3 day ARCA test at Daytona International Speedway. "With a new team and a car prepared out of our race shop in Mobile we had a lot of unanswered questions going in to Daytona. I think our first laps put us in the top 20 and both my Dad and I finally took a breath," offered Praytor. "Our Senior Bowl Fusion powered by Roush Yates Engines was flawless mechanically all weekend. Nick Ramey and the guys at Roush are incredible. Crewchief Lee Leslie and our crew made my job as the driver easy." The Mobile based team posted impressive numbers throughout the 3 days of testing with Praytor reaching a top lap speed of 182.537 miles per hour, the 8th fastest speed of the test with over 50 drivers taking time. "Two of our goals for the test were to earn the respect of the ARCA garage and prove our Mobile team could compete at this level. Hopefully our performance on and off the track this weekend shows were serious about what we're doing." The Daytona ARCA 200 will be the first race of the 2013 ARCA season and kick off Speedweeks in Daytona on February 16th, 2013. The live TV broadcast on SPEED is the most watched ARCA broadcast of the season, Praytor just hopes he'll be watching the action through his windshield and not on TV. "It took everything and everyone we know to put together a quality effort for the test. We're working with several marketing partners to make it possible to go back and race. We've been working as hard on sponsorship as we have on the car, hopefully we'll have the same kind of success we had on the track."
Picture: Max Force Team pushing Senior Bowl Fusion into position for another run at Daytona International Speedway.

Moose Drafts To Top 10 In Day 2 at Daytona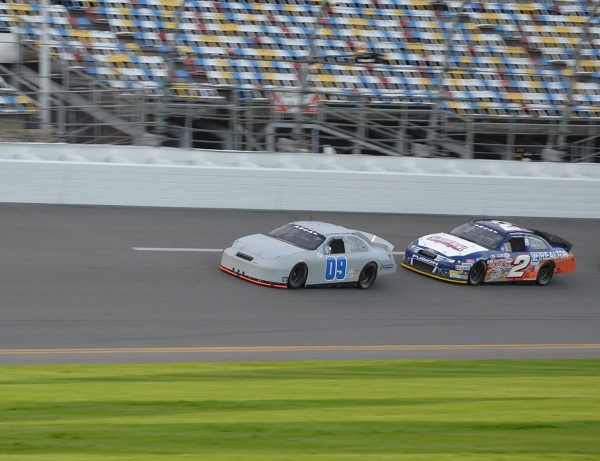 In the second day of testing at Daytona International Speedway, the Moose, Thomas Praytor, rumbled up to the 8th spot on the speed chart during the afternoon drafting session. "We made big gains during the morning session and really owe a big thank you to Wadell Wilson at Jerico for help with our gear selection for this weekend. We had a solid start yesterday and the team along with the guys at Roush Yates really attacked the car this morning. We improved our qualifying effort and were 13th before afternoon drafting," said the Moose. After single car runs in the morning, the Speedway opens for drafting practice in the afternoon. "We really drafted a lot this afternoon. Front of the pack, middle of the pack and shuffling back to the tail end, anywhere I put our Senior Bowl Fusion it was solid." The final day of the 3 day ARCA test continues tomorrow at the World Center of Speed. Mobile based Max Force Racing team plans an abbreviated day with a long haul back to the Port City.
Picture: Fairhope, Alabama's Grant Enfinger and the Moose drafting at Daytona International Speedway.
Moose and Mobile Team Solid in First Day of Testing


The Moose, Thomas Praytor, arrived at the World Center of Speed with a new team, a new car and a lot of anxiety over the first day of testing for the ARCA Lucas Oil Slick Mist 200. In the morning session of single car runs the Moose's Senior Bowl Ford Fusion was solidly in the top 15 at 13th with over 50 drivers at Daytona. "Our Senior Bowl Ford has been awesome all day. We had a lot of concerns having prepared the car in our shop in Mobile but I think we proved today that a Mobile, Alabama team can run with some of the best in the business," offered the Moose. Today was day one of 3 planned days of testing at Daytona International Speedway for the ARCA Series presented by Menards. "Our guys from Mobile have been busting their butt's for weeks and it's paying off. Lee Leslie and the guys from Roush Yates Performance have been incredible. We still have a long way to go but today was a great start in moving up to the next level."
Pictures: Top-Senior Bowl Ford Fusion at Daytona International Speedway. Bottom-Lee Leslie and Nick Ramey talking with the Moose.
Hall of Famer-Mader Schools the Moose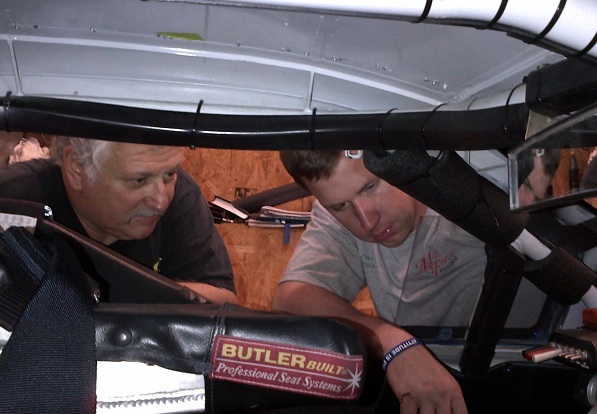 With the test for the Lucas Oil Slick Mist
200 at Daytona International Speedway a week away the intensity in our Max Force Racing shop his picked up a notch or two or maybe ten. With a team based out of Mobile, Alabama you seek out the most talented people on the Gulf Coast for help. In Mobile you don't have to search any further than Alabama Auto Racing Pioneers Hall of Fame 2012 inductee Dave Mader, III. Mader will be inducted into the Hall tonight in Talladega but he has spent the last 2 weeks as lead fabricator and professor for our entire Max Force team in preparing for our first Daytona effort. "Mr. Dave has done everything there is to do in racing and having him in the shop has been a tremendous help to our team and for me as a driver," offered the Moose. "Mr. Dave has really made some trick aero pieces, they make me feel faster just looking at them. The support we're getting from the local racing family is incredible."
Mader's racing resume is one of the strongest in all of motorsports with over 200 late models wins, ARCA wins and having driven in Sprint Cup, Nationwide and the Camping World Truck Series. Mader also won 4 consecutive NASCAR All American Challenge Series Championship, 1985, 1986, 1987 and 1988. A unique position that only 3 others have bested. Richie Evans had 8 NASCAR Modified Championships and has already been inducted into the NASCAR Hall of Fame, Jim Reed with 5 Short Track titles and 5 time NASCAR Champion Jimmie Johnson.
While Mader is headed for enshrinement at Talladega the Moose is headed to Indianapolis for the IMIS trade show and the Annual ARCA Awards Banquet. Daytona test 7 days away.
Senior Bowl Drafts Moose for Daytona Test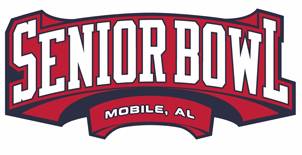 The Senior Bowl will be the primary sponsor for Thomas "Moose" Praytor at the Automobile Racing Club of America (ARCA) Test this weekend at Daytona International Speedway. Every year the road to the National Football League goes through Mobile with players showcasing their talent in Mobile's Senior Bowl Game. The Senior Bowl will kick off January 26th at 3:00 PM CST and is college football's premier senior showcase event, annually featuring the nation's best senior collegiate football stars and top NFL draft prospects on teams coached by NFL coaching staffs. "The Senior Bowl is dedicated to showcasing up and coming talent and what better way to promote our game than showcasing an up and coming race car driver from Mobile!" said Phil Savage Executive Director of the Senior Bowl. "Working with the Moose is another example of how the Senior Bowl is reaching out in to the community to form new partnerships." The ARCA Daytona test is slated for December 14-16th and is the beginning of on track activity at Daytona International Speedway that will lead to Speedweeks in February. "Our Daytona effort is all about being from Mobile and it doesn't get any bigger or better in Mobile than the Senior Bowl," offered Praytor. "The Senior Bowl is such a big part of our family with my Grandfather having been part of the Senior Bowl committee from almost the beginning, it's a real honor to be associated with the game." The Praytor family will hold it's 44th Annual Senior Bowl Tailgate Party at this years game and it has become one of the must stop parties in Tent City.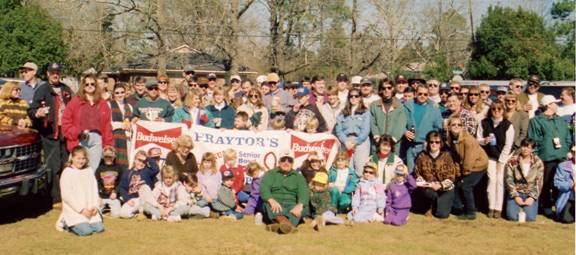 Picture: The Praytor's Annual Senior Bowl Tailgate Party 1993. The Moose is the under the Y in Praytor on the banner, Thomas hasn't missed a game since he was born and his Dad Tommy hasn't missed one since the Praytor Family started taking the neighborhood kids in 1969.
The ARCA Series will begin the 2013 season at Daytona on February 16th, 2013. The second stop on the tour is Mobile International Speedway for the ARCA-Mobile 200 on March the 9th.
About the Senior Bowl