Thomas 2018 News and Pictures
Praytor Flexes Plate Muscle To Start 20th Season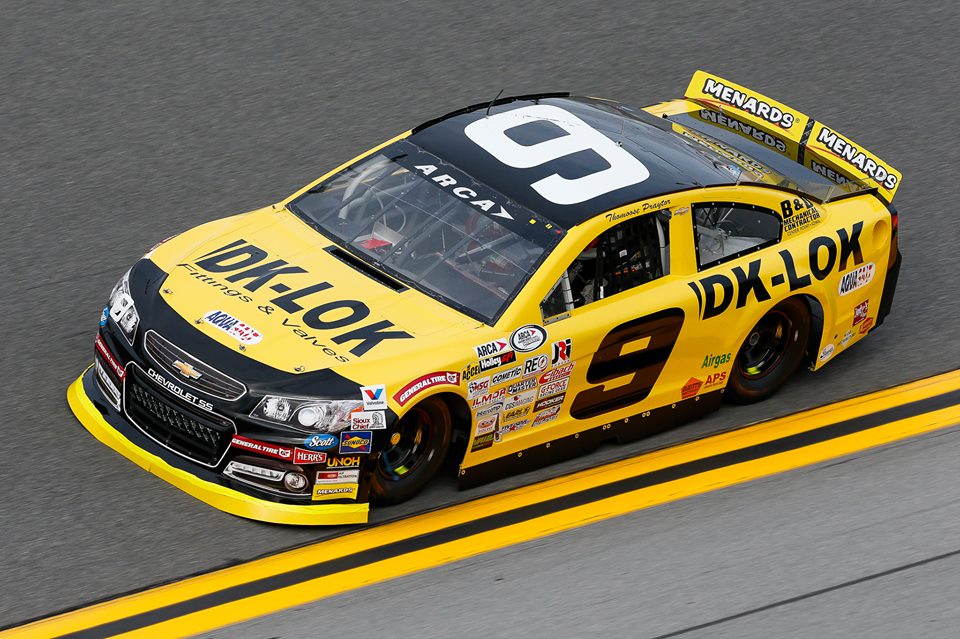 With a new paint scheme and whole lot of attitude, Thomas "Moose" Praytor began his 20th Season of Racing at Daytona International Speedway in the Lucas Oil 200 presented by General Tire.
"Our car has been bad fast since the very first composite body test at Talladega last year and we've been waiting on February 10th," said Praytor.
The DK-LOK Chevy quickly drew notice at Daytona with the return of the Moose's "Black & Yellow" Paint scheme rolling through the garage. It got even more attention when it made its first laps in the draft.
"Practice confirmed what we felt like after testing and our Chevy would just go wherever I wanted to put it. We worked on a gear and a few other small items before putting the car cover on it and getting ready for qualifying."
Group qualifying was supposed to a pretty straight forward affair until 6 drivers brought their own agendas to the table and let's just say the Moose ended up on the short end of the buddy stick. "We get hosed every year, don't even know why we make a plan it never works out."
Praytor wasn't the only veteran to find himself in the middle of the field, 8 time Daytona winner Bobby Gerhardt would line up right -behind him. "Having Mr. Bobby back there made me feel a little better but I really wanted to get up to the guy who hosed us in qualifying."
With the drop of the green flag the Ironman of the ARCA Series didn't show any rust as he quickly started drafting towards the front.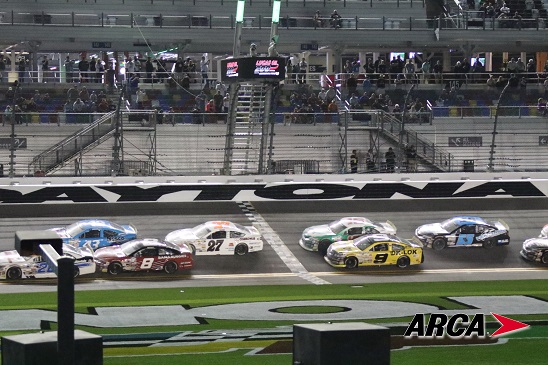 Praytor and Veteran Cup Spotter Tab Boyd are in their third season of working together and the duo were as smooth as peanut butter and jelly. "Having Tab on the roof really gives me a lot of confidence in gambling on tricky moves."
Praytor and Gerhardt quickly made up 10 or 12 spaces when the first caution flag of the day flew. Things were about to get interesting.
The caution was for teammate Ronnie Osmer's Ford that had gone up in smoke off of turn 4. While the leaders including Praytor lined up to come to pit road for fuel bad stuff was happening in Praytor's pit box.
Osmer brought his car to rest in his stall, which was one behind Praytors. The team started to push Osmer's car to the garage when an official stopped them in Praytor's pits, leaving the Moose nowhere to go.
While the elder Praytor argued with the officials the team pushed Osmer back into his stall, allowing Praytor to back up into his stall and other cars along pit road to do the same. Since the Moose wasn't in his stall the domino effect hit everyone at the beginning of pit road. "It was just a cluster, I could hear my Dad through my earpieces and over the motor yelling at the officials."
When Praytor returned to the racing surface all of the gains he had made were wiped out and then some. The effect was like waving a red cape in front of a mad bull or in this case a mad Moose.
Back under green Praytor was a man on a mission led by his eye in the sky, Tab Boyd. Praytor was picking off competitors in wholesale fashion, he even found his way up to the driver who hosed him in qualifying. The radio conversation went like this-"Did you just tell him he was number 1?" "Yep with both hands while I was driving with my knees."
Within 10 laps Praytor had gained back all the ground he lost and was on the back bumper of Bobby Gerhardt.
"That section of green flag racing was a lot of fun. Our DK-LOK Chevy was getting big runs and we were able to move lane to lane. Tab was calling out positions 2 or 3 ahead of me we were gaining positions so quickly."
With so much success picking up spots, a mid-race caution let Praytor come back to pit road to top off and ensure himself enough fuel to go the distance and into overtime, little did he know.
With the laps winding down the level of intensity was picking up with give and take turning into take only. Praytor seemed to be at the epicenter of every big wreck leading to the finish.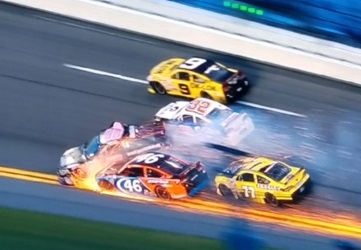 The first big one happened in turn 2 with the Moose sweeping to the outside to use a hole that closed behind him, collecting more cars.
On the first final lap a car ended up on his side sliding down the backstretch. Praytor dove low launching his DK-LOK Chevy in the air over the grass somehow landing on all fours and still pointed straight.
Fox Sports Video: https://www.foxsports.com/motor/video/1158718531906
Praytor was now 5th with an overtime lap to settle it.
The top four cars had been pushing and shoving on each other for a while so a single lap was probably a good time for them to really lean on each other. Praytor dropped a couple of car lengths back on the restart and going into turn 3 the leaders did just what he expected and they started wrecking. "It played out perfectly for us and we got hammered from behind."
Fox Sports Video: https://www.foxsports.com/motor/video/1158734403913
The melee set up another single lap for the finish.
Praytor's once shiny new car was now a mangled mess but all it needed to go was 1 more lap. The Moose got a push to pit road and the taping, pulling and shoving started. Several times through the Moose returned for the final lap. A final lap that didn't go as planned.
On his way to take the green flag, Praytor's Chevy must have had some body parts still hanging loose and a piece get into the right front tire, blowing the tire and taking out the right front fender. Instead of making a charge to the end Praytor limped home to a 14th place finish.
"Really a great effort for our race team, it's a shame it didn't work out all the way to the end but we had a bad ass race car, we were in the hunt with all weekend. Can't say enough about Tab (Boyd) making calls from the roof, what a great job in helping me get around. Way too many people to thank for getting this car ready and here to Daytona, our guys back in Mobile, Bruce Shakespeare who dropped in from Iowa and our UNOH kids did a nice job in their first outing. I wish Ronnie (Osmer) had been able to make all the laps but I'm glad he is OK, that's pretty wild. We can't go fast without all of our marketing partners, DK-LOK along with AQUASALT and Wade Distributing really stepped up for Daytona. We'll get her fixed back home and be ready to be back home in Alabama at Talladega."
Watch Thomas Praytor and Randy Patrick Saturday night on WKRG TV 5 Special "Countdown to Daytona" at 6:30 CST.
Osmer's Debut Cut Short by Errant Pipe Through Motor Then Car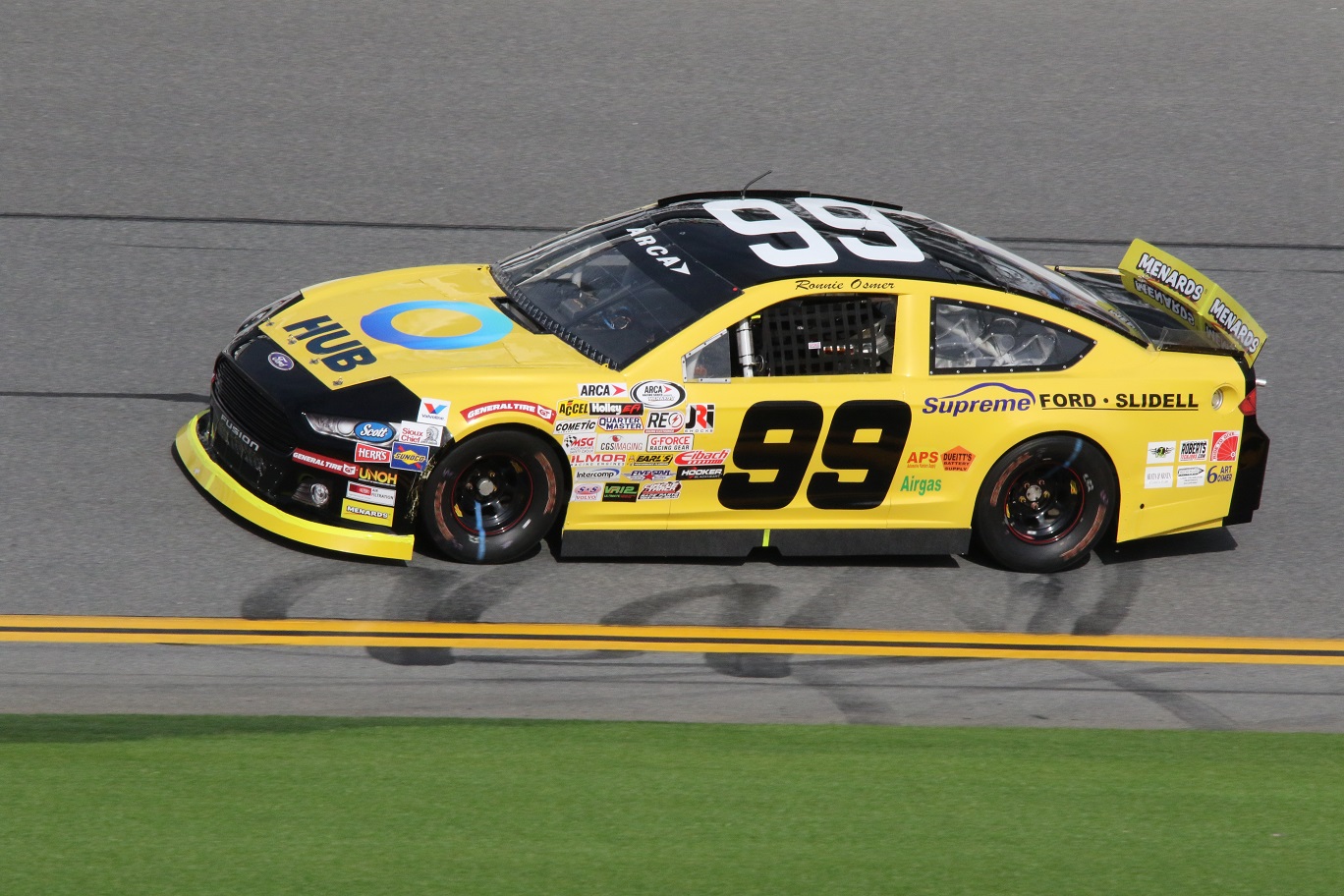 At Daytona International Speedway competitors and their crews prepare for the unexpected, almost anything can happen and when you think you've seen it all, Scotts Rookie of the Year Challenger Ronnie Osmer adds a new one.
Osmer rolled his Hub International/Supreme Ford-Slidell Fusion on to high banks of Daytona for his first Lucas Oil 200 driven by General Tire looking for a solid day and making all 200 miles.
"The first few laps at Daytona are always hectic and Ronnie did a really good job navigating traffic and doing what he needed to do," offered spotter David Pepper. "It looks easy on TV but you can get in trouble really quick going this fast."
The Green flag signaled the beginning of the 55th running of the ARCA Series at Daytona and Osmer quickly brought his HUB/Supreme Ford-Slidell to life.
"Lots of nerves leading up to the race but getting in the car and taking the green flag really got me focused on my job and let me shut out everything going on around me" said Osmer.
Osmer's Ford circled the World Center of Speed at a pace close to 180 MPH and the Scotts Rookie was having a text book first start at Daytona.
"Having the experience of David Pepper spotting for me, giving me great info really helped me work the draft and the other cars around me."
Osmer was settling into the demands and G Forces of the draft when just past the ¼ way mark things started to go bad, really bad.
"I could smell the motor going bad but my gauges all looked good then a big ball of smoke came out from under the hood."
Osmer quickly put his wounded HUB/Supreme Ford down on the apron and made his way to pit road. The team pushed his lifeless machine back to the garage while the driver made the mandatory trip to the infield care center.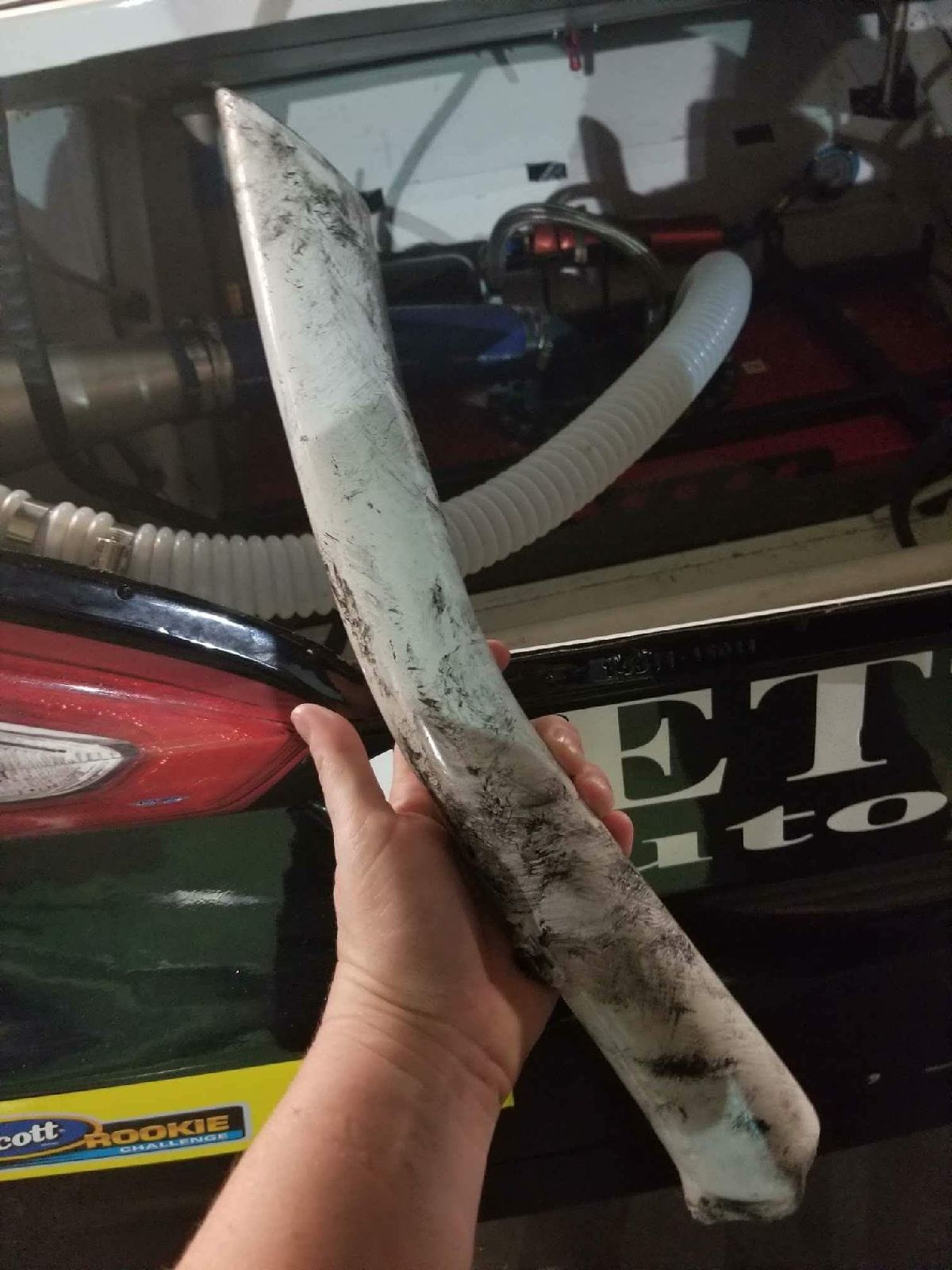 Back in the garage, the team searched for the issue with the motor and found a foot and a half piece of bumper bar in the trunk. The bar had come off another car, going through the front of Osmer's Ford taking out oil and water lines on the motor before blowing a hole in the crush panel of the trunk and landing in the rear of the Ford.
"It doesn't get much crazier than that," said Osmer. "I just knew the motor had gone south but it's hard to keep one going with a pipe beating on it at 180 MPH."
Osmer's day was shorter than hoped for but the experience-"It's just hard to put in to words getting an opportunity to race at Daytona. So many people helped make this possible, HUB International, Supreme Ford Slidell and our tire sponsors; Roberts Tech Jobs.com, J Wire, Arata & Arata, Larry Trumbaturi House Plans and Ride to Give."
"We created some amazing partnerships to make Daytona happen and we hope it's the first of more to come. I'm definitely hooked!"
Praytor Starts 20th Season of Competition at Daytona

The Lucas Oil 200 Driven by General Tire: Thomas "Moose Praytor heads to Daytona International Speedway to start his 20th season of racing competition and his 102nd consecutive ARCA Race leading all ARCA Competitors. "What a ride! Hard to believe, it just seems like yesterday we were racing karts at J & J Speedway." Praytor heads to Daytona with a new car, a new paint scheme and fresh Ilmor power plant. "Each year we've tried to improve our program and this year we are coming to Daytona with one of the best cars we've ever taken to the race track. Our guys have been working hard back in Mobile and we have a really nice piece for Daytona." Along with a new car Praytor has another Mobile-5 Flags Driver, Ronnie Osmer as a teammate. "Ronnie has a done a great job at the test and in the shop, he should have a solid effort on Saturday." Mobile has 3 drivers at Datyona this weekend, Osmer, Praytor and Dave Mader. Mader is a member of the Alabama Racing Hall of Fame and his last trip to Daytona was in 1992 trying to make the Daytona 500.
SPOTTER: At the races that are companion events with the Sprint Cup Series, Praytor will continue to utilize Pensacola native Tab Boyd. When he is not moonlighting for Praytor, Boyd is William Byron's new spotter in the Monster Cup Series.
2017 ARCA CHAMPIONSHIP STANDING: 7th
CAR: MF002 The team has been working on this chassis for the last 5 seasons for exclusive use at Daytona and Talladega. It's paid off with the car and Praytor drafting to their way into the top 5 in the last 4 plate races.
The Lucas Oil 200 Driven by General Tire is a long 4 day event with technical inspection all day Wednesday and Thursday morning before the first round of on track activity Thursday afternoon from 4:00- 6:00 EST. Friday morning is the final round of practice with Menards Pole group qualifying at 3:30 EST. On Saturday the 65th ARCA Season presented by Menards gets underway at 4:15 EST. Live timing and scoring for practice, qualifying and the race will be on ARCAracing.com. This race will be televised live on Fox Sports 1, Channels in Mobile Comcast/Xfinity 49/241HD, Mediacom 52, Direct TV 219, Dish 150, AT&T Uverse 652.
WHAT TO LOOK FOR THIS WEEKEND: While Praytor is a Superspeedway Veteran the field will be filled with Rookies and first time starters expect plenty of excitement. Fuel and luck will be the key to a good finish.
PRIMARYSPONSOR: DK-LOK Fittings & Valves dklokusa.com
ASSOCIATE SPONSORS: G-Force, Nudraulix, Rettigs Auto Body, APS Automotive Painters Supply, Dueitt's Battery Supply, Airgas, MAECO Fabrication, John Thompson & Associates, Judy's Place, Ainsworth Racing, Greer's Food Market, AQUASALT, Wade Distributing, Campbell, Duke & Campbell, Omni Fitness, Golden Flake, Mobile County Sheriff's Office, Praytor Realty
Osmer's Supreme Ford Adds HUB International for Daytona
Scott Rookie Challenge candidate Ronnie Osmer has teamed up with HUB International for Osmer's first start at Daytona International Speedway.
"The last month has been kind of a blur with the opportunity to test at Daytona and now a shot at racing," said Osmer. "Having a company with as much clout as HUB International partner with us is incredible."
With over 10,000 agents HUB is one of the largest insurance brokers in the world, and represents a broad, deep, one-of-a-kind aggregation of insurance entrepreneurs. HUB offers a wide variety of personal and business insurance with over 400 brokerages in the US.
"We have been watching Ronnie work his way up through the racing ranks and we are excited about being part of his first start at Datyona," offered Donald Pecot, Sr, Vice President, HUB International.
Osmer will pilot a Ford Fusion made possible by Louisiana Ford Dealer, Supreme Ford in the Lucas Oil 200 driven by General Tire on February 10that Datyona.
"Ronnie had a great test and a lot of people have worked really hard to get him back for the race," team owner Thomas Praytor. "He should have a solid race, plus I really enjoy having another MIS-5 Flags Driver as my teammate."
The ARCA Racing Series will be making its 55th appearance at the World Center of Speed on February 10th at 3:45 CST live on Fox Sports 1.
CHASSIS MF009: Supreme Ford's 275+ employees are the power behind Osmer Fusion Chassis 009.
SPOTTER: David Pepper, General Manager ThorSport Racing.
PRIMARYSPONSORS: HUB International - Supreme Ford Slidell
ASSOCIATE SPONSORS: J-Wire, Inc. Larry Trumbaturi Drafting, Arata and Arata Law Firm, RobertsTechJobs.com, Nudraulix, Rettigs Auto Body, APS Automotive Painters Supply, Dueitt's Battery Supply, Airgas, Golden Flake.
Praytor-Osmer Tardy But Daytona Tested

Mobile based Max Force Racing tested two drivers, with two different agendas during the ARCA Series test at Daytona International Speedway-both accomplished their task.
For the 18 year old Pearl River, Louisiana native, Ronnie Osmer's task was simple, make laps, get comfortable and earn his ARCA Superspeedway license.
For the Ironman of the series and one of the drivers with the most restrictor plate laps at the test, Thomas "Moose" Praytor's task was different, improve on the Talladega Test and get ready to run up front.
The addition of the second car for the test put a lot of pressure on the all volunteer team from Mobile, Alabama. In the two weeks leading up to the test all of the resources the team could muster were working towards having the 2nd car ready.
Even with everyone working well in to the night and 48 hours continuously before leaving the team was behind. The DK-LOK hauler arriving on Friday afternoon, just in time for it to rain.
The team used the rain to finish up minor items on the cars, starting fresh on Saturday.
Praytor took the second car out for its first trip at the World Center of Speed, making sure it was good to go and turned it over to Osmer.
As with every new driver at Daytona there is a learning curve, the hardest are, don't let off the gas and don't run off the bottom of the racetrack.
"I took a ride in the van around the track earlier in the morning. That gave me a really good perspective in person," said Osmer. "I turned a lot of laps on the simulator preparing for the test but there is no way a computer can simulate Daytona!"
Osmer's first few laps were tentative, as they should be, then the young Rookie started dropping his lap times picking up speed and confidence.
While Osmer was getting to know the track, Praytor was at home hammering out lap times in and out of the draft putting his car through it's paces preparing for ARCA's 55th return to Daytona.
"We just have a tremendous amount of confidence in this car, it ran third most of the race here last year until we got collected in somebody else's mess," offered Praytor. "We were working on small things like tape and gears, we really didn't get the draft partners we were looking for but I think we know the direction we need to come back with in February."
With the test winding down Praytor took to the high banks of Daytona one final time with his Rookie teammate in tow. "We wanted Ronnie to draft some before leaving so he could get a feel for the draft if he gets an opportunity to race here," added Praytor.
The pair of 9's were soon making tracks at the World Center of Speed and it didn't take the 18 year old long to have a handle on the draft. "Really appreciate Thomas spending so much time with me showing me the way around the track in the draft. When we got lined up nose to tail my car really took off," Osmer.
Missions accomplished, Osmer received his Superspeedway license and Praytor is ready to return for the Lucas Oil 200 driven by General Tire on February 10th.